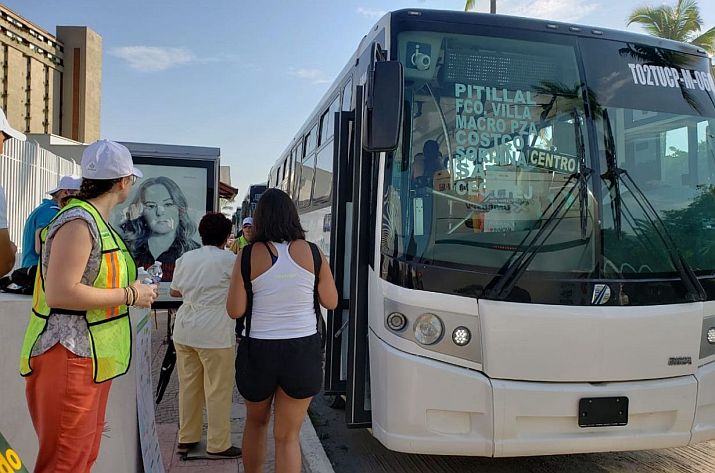 Puerto Vallarta, Jalisco, Mexico – In a meeting held with business leaders in the region, Diego Monraz, Secretary of Transportation of Jalisco, Deputy Mónica Magaña, President of the State Mobility Commission, and Susana Rodríguez Representative of the Government of the State of Jalisco, promised to support actions aimed at improving mobility in the metropolitan area of Puerto Vallarta and Bahía de Banderas.
Participating in the meeting were Jorge Villanueva, president of the Association of Entrepreneurs of Puerto Vallarta and Bahía de Banderas (AEBBA); Juan Pablo Martínez, president of Coparmex Puerto Vallarta; Guadalupe Bayardi, president of Amexe Puerto Vallarta chapter; Jorge Carbajal, president of regional Canirac; and Arnulfo Ortega, president of the PV-BB Coordinating Council.
They were presented with four relevant points related to mobility in Puerto Vallarta, the first being a new Mobility and Transportation Law of the State of Jalisco initiative, which contemplates the possibility of consulting with business leaders who could propose actions and comment on its composition and application.
The second point was the Nos Movemos Seguras ("We Move Safely") Program promoted by the Secretariat for Substantive Equality in coordination with the Mobility Commission. The Ministry of Transportation and the State Government led the presentation of this public policy for the installation of "Purple Points", spaces to provide security to women during their waiting time to board platform vehicles, taxis and public transport. To get this started, they contemplate 10 stops with characteristics such as information totems, lighting, Wi-Fi, electrical sockets with USB ports and panic buttons.
As a third point, the resumption of nighttime public transportation services in Puerto Vallarta was discussed. The so-called Búho Nocturno (Night Owl) bus routes would answer the demand of both workers and tourists needing economical and secure transportation at night. If approved, these buses would run from 11:00 pm until 5:00 am.
Finally, it was reported that work is being done to start the first interstate public transportation route between Puerto Vallarta and Bahía de Banderas. It is projected that this metropolitan mobility action – a bus that would cover from La Cruz de Huanacaxtle to Mismaloya – will be a reality in the coming months.
The gathered businessmen thanked the Government of Jalisco for the upcoming transportation strategies that will benefit and modernize mobility in the greater Banderas Bay area, and especially for listening to the private sector. "Considering the safety of women waiting to board transport service units, in addition to the work to consolidate a route and implement efficient land connectivity in the Interstate Metropolitan Tourist Zone would mean important advances that we could fully support," said Dr. Jorge Villanueva.
Sources: Contra Línea • Metrópoli Bahía