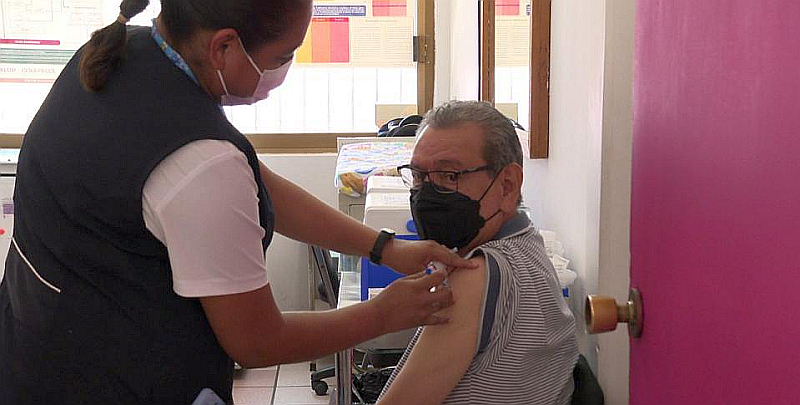 Puerto Vallarta, Jalisco, Mexico – 46,000 doses of flu vaccine have been allocated to Puerto Vallarta as part of the State of Jalisco's seasonal influenza vaccination campaign for the 2022-2023 winter season, which began on October 3 and ends on March 31, 2023. Free flu shots are currently being administered in local health centers and hospitals.
Every year new flu strains appear that become a latent threat for the winter season. This year it is the H3N2 strain which, together with the new wave of cases of Covid-19 and expected seasonal respiratory diseases, makes getting vaccinated all that much more important.
Jalisco's influenza vaccination and reinforcement brigade seeks to reduce the risk of contagion in the state.
Dr. Jaime Álvarez Zayas, director of the Eighth Sanitary Region, said that while it is important for the entire population to be vaccinated, priority will be given to at risk groups, such as children under five years of age, adults over 60 years of age, people with chronic diseases, pregnant women and health personnel.
"If those that I just mentioned get sick from influenza there is a risk of increasing the degree of complications, and that is why we are going to vaccinate all people, but give priority to the most vulnerable," he explained.
Álvarez Zayas indicated that free flu vaccines are available every Monday-Friday morning in all local health centers, including the Puerto Vallarta Centro de Salud, the Naval Hospital and the Regional Hospital, as well as at hospitals in municipal capitals, such as Mascota and Tomatlán.
"The brigades are also going to go to schools, child care centers, the UMA, the Municipal Presidency and local Universities; that is in addition to the semi-fixed or mobile vaccination stations that we are going to set up around the city to try to protect more people, especially the most vulnerable groups," he added.
The State of Jalisco's Winter 2022-2023 Seasonal Influenza Vaccination Campaign started earlier this month with 2,236,528 doses available, with which it seeks to protect the population. Free flu shots will be available in Puerto Vallarta until March 31, 2023.
Sources: Tribuna de la Bahía • Informador