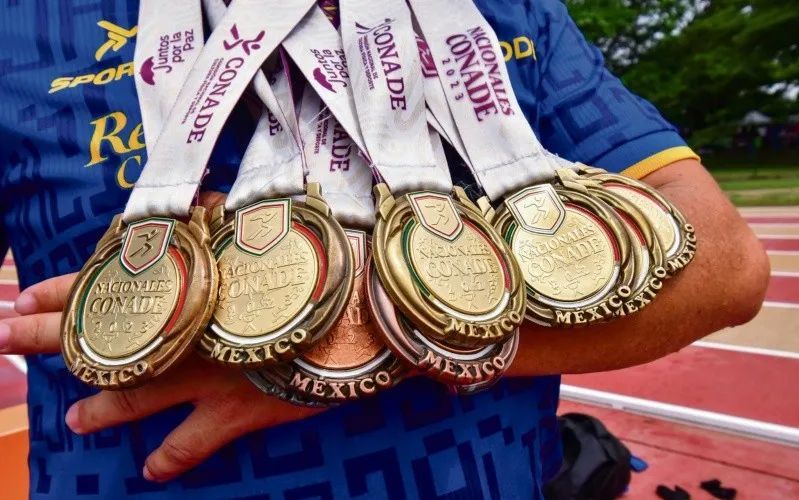 Guadalajara, Jalisco, Mexico – Jalisco has once again asserted its dominance at the CONADE National Games, winning a record-breaking number of medals. The state's athletes have now won more medals than any other state in the history of the games.
Formerly known as the National Olympiad, the CONADE National Games are the most important sporting event in Mexico for young athletes aged 12 to 20, and the Jalisco delegation has once again established itself as the best in children's and youth sports in Mexico.
The 2023 edition of the event came to a thrilling finish on Monday with the conclusion of athletics, marking the end of the 51 disciplines featured in this sporting extravaganza. Jalisco claimed the top spot in the overall rankings, an achievement made possible by securing a staggering 430 gold medals. This outstanding performance earned the state its 22nd title in the history of the competition, including its previous victories during the National Olympiad era.
A formidable delegation comprising 1,718 athletes from Jalisco took part in the Games from May 21 until July 24, delivering an impressive series of triumphs across the five participating states. The gold medals were accompanied by 322 silvers and 280 bronzes, culminating in a grand total of 1,032 medals for the state.
Jalisco's success is due in large part to its strong swimming and track and field programs. The state's swimmers won 103 medals, including 40 golds, while its track and field athletes won 99 medals, including 34 golds.
Other medal-winning sports for Jalisco included gymnastics, boxing, and wrestling.
Jalisco's success was unparalleled, as it left its closest competitors, Nuevo León and Baja California, far behind in the medal count. Nuevo León secured 269 gold medals, while Baja California obtained 165 golds. Their total medal counts amounted to 709 and 467, respectively, leaving them trailing Jalisco by a significant margin of 323 and 565 medals.
Change may be the only constant in life, but Jalisco's sporting supremacy remains an enduring truth. After 65 days of intense competition held across different states, in 2023, Jalisco has once again proven itself as the unrivaled champion of the Conade National Games.
With information from Government of the State of Jalisco • Informador