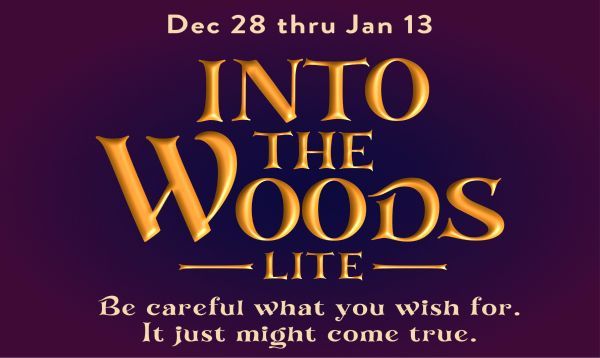 Puerto Vallarta, Mexico – As we welcome 2018, The Boutique Theatre and Nacho Daddy Restaurant invite everyone to come enjoy a host of new and returning live musical and theatrical performances with dinner-and-a-show entertainment options, Open Mic night, Ted Talks, and lots of fun!
Into the Woods (LITE)
The beloved melodies and harmonies of Stephen Sondheim are recreated in Into the Woods (LITE), playing at 6 pm Thursdays, Fridays and Saturdays, closing January 13. Ralph Hyman directs this musical romp, with all your favorite fairy tale characters coming to life.
A successful business man, a socialite, and a professor – not Gilligan's Island – but the three performers starring in the show. Roger Vickery, who plays "The Baker," is from San Francisco, California, which happens to be the home of sourdough. He is back on stage after a stint in childhood more than 40 years ago.
Carmen Bachan, a Puerto Vallarta resident from Santa Barbara, California, shares her beautiful voice in her first foray on stage. Lynne Davis Dellinger has directed and appeared in many shows at the Boutique. She is a retired professor from Pennsylvania, playing "Jack," of Beanstalk fame.
The Big Bad Wolf, Cinderella, and Little Red Riding Hood are also among the players in this diverse cast of 14 singers. Musical director is Marcia Hootman.
Patsy Cline's Jukebox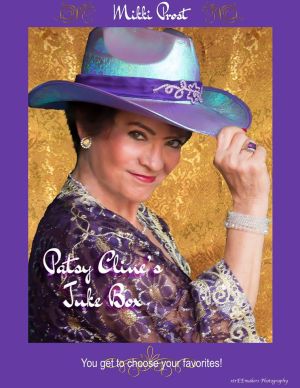 This is Mikki Prost's seventh season performing her heart-warming Patsy Cline tribute show at The Boutique. This year's twist is the jukebox format, in which audience members get to choose their favorite Patsy songs for Mikki to sing. Each week, a different all-request show will be presented. The show opens at 6 pm on Tuesday, Jan. 2, and continues Jan. 9, 16 and 23. Mikki pays homage to the country music legend, sharing stories about the singer's life, as well as recreating her beautiful music. Mikki researches, writes, and performs her own one-woman shows, and is known for her warm rapport with audiences.
Fast Eddie's Karaoke Party
Every Saturday at 8:30 pm, you can be a star, and behold the legends, at Fast Eddie's Karaoke Party. This season, we got moved to the Saturday Night slot, for maximum results! Non-singers are encouraged to join our "Rubber Band" of air instruments. Accessories provided include: rock star sunglasses, wigs, sombreros, masks, and tambourines. Hosted by Fast Eddie and The Boutique's "above-average" singer, Catherine Caldera.
Elvis, The Other SideElvis Presley once said, "Gospel music is the purest thing on earth." On Jan. 7, a gospel inspirational show will feature two top award-winning Elvis tribute artists, Rob Knight and Jaedyn Pilon. Jaedyn is just 15 years old, and is rapidly gaining notoriety. This one-time-only show will be a 4 pm Matinee, and guests from overseas are already securing their tickets. The performance features the beautiful music Elvis was drawn to as a child, and turned to during the trials and tribulations in his life.
TED Talk Tuesdays
Sleepyheads prevail! Starting in the new year, TED Talk Tuesdays move an hour later to a new time, 10 am to 12 noon. Also new is a no-host breakfast menu, offered by the Nacho Daddy kitchen, featuring items like breakfast burritos. Coffee and all other beverages are available for purchase.
TED Talk Tuesdays bring together people who love learning, with local experts in a variety of fields and pursuits. Talks are every other Tuesday, through the season.
On January 9, Michael Lindner will share ways to keep our minds sharp. He is a CEO of Palliative Care, a Nurse, and a Classical Musician. "Dementia, You're Not the Boss of Me!" is his TED Talk topic.
On January 23, Petr Myska – Photographer, Biologist and Author, presents "Nature: Puerto Vallarta's Greatest Asset"
7 Ways to Say I Love You
7 Ways to Say I Love You plays Thursdays through Saturdays, Jan. 18 to Feb. 3. Two actors play 14 characters in a collection of funny, sweet, silly, poignant, and stylistically diverse short love stories. Scenarios range from the awkwardness of asking out a pizza store clerk, to a film noir-style revenge comedy. Chicago actors Melissa Tropp and Andrew Jordan, from last season's closing production of Over the River and Through the Woods, return to The Boutique stage. Join us in this heart-warming exploration of grief, pain, and humor, as the plays dance around the eternal human theme of love. The playwright is Adam Szymkowicz.
About The Boutique Dinner Theatre
The theater is located upstairs at Nacho Daddy, 287 Basilio Badillo, in the Zona Romantica district of Puerto Vallarta. Theater and concert-lovers can also enjoy dinner an hour before each show. Choose from Fillet Mignon, Chicken Cordon Bleu (with potato and vegetables), or a vegetarian Chile Relleno (with rice and beans). The delicious meals include a salad and dessert. Tickets can be purchased during Nacho Daddy business hours, 11 am to 10 pm daily. Check for ongoing updates and fun facts from The Boutique Dinner Theatre on Facebook. For information call 322-192-4616.

Awarded TripAdvisor's Certificate of Excellence in 2014, Nacho Daddy Mexico is the premier sports bar and restaurant in Puerto Vallarta. Open daily from 11 am to 12 am for lunch, dinner, live music (with no cover charge!) and lots of fun, this popular south side hangout is located at Basilio Badillo #287, only two blocks off the beach in the heart of the Romantic Zone. Credit cards accepted. For more information, visit NachoDaddyPV.com or become a fan on their Facebook Page for promotions, daily specials and more.

Click HERE to learn more about Nacho Daddy Mexico Restaurant & Sports Bar.