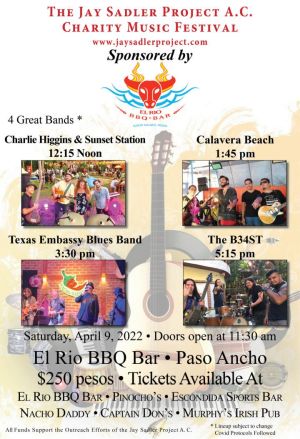 Puerto Vallarta, Mexico – Each year the Jay Sadler Project A.C. hosts the Charity Music Festival as one of its two major fundraisers. All monies collected from ticket sales, sponsor fees, raffles, and the Silent Auction, go directly towards funding our community activities for the coming year.
The Jay Sadler Project A.C is a Jalisco based non-profit organization providing necessary resources to improve various institutions in the Banderas Bay area and Puerto Vallarta. These include Day Care Centers, Senior Citizens Homes and Schools for the Disabled, Public Schools in rural areas and other private charitable institutions. The Jay Sadler Project A.C. also provides building maintenance, repairs and installation of playgrounds in the community. More information may be found online at jaysadlerproject.com.
The 2nd annual Charity Music Festival will be held at El Rio BBQ Bar on Saturday April 9. Doors open at 11:30 am. We are limited to an attendance of 300. Tickets are currently on sale at the following locations: Nacho Daddy, Murphy's Irish Pub, Escondida Sports Bar, Pinocho's, Captain Don's and El Rio BBQ Bar.
Four of the Puerto Vallarta area's best bans will be playing throughout the day: Charlie Higgins and Sunset Station, Calavera Beach, The Texas Embassy Blues Band and The B34st (formerly know as Trez Cuartoz). Thanks to our entertainment sponsors: Pat's Plates PV, American Legion Post 12, and a group of Michigan based sponsors including Patty Williams Productions, Creative Arts Concepts, Pure Michigan, Michael & Jo McGinnis (In Memory of Mike Jr. "Gone but not Forgotten") and David T. Weber and our host, El Rio BBQ Bar.
In addition to ticket sales, funds are raised via the Silent Auction and raffles that are held throughout the day. If you are interested in donating items to either of these initiatives please contact Jim Sullivan at jsppr(at)gmail.com. Band sponsorship is also needed. Interested parties are requested to also contact Jim.