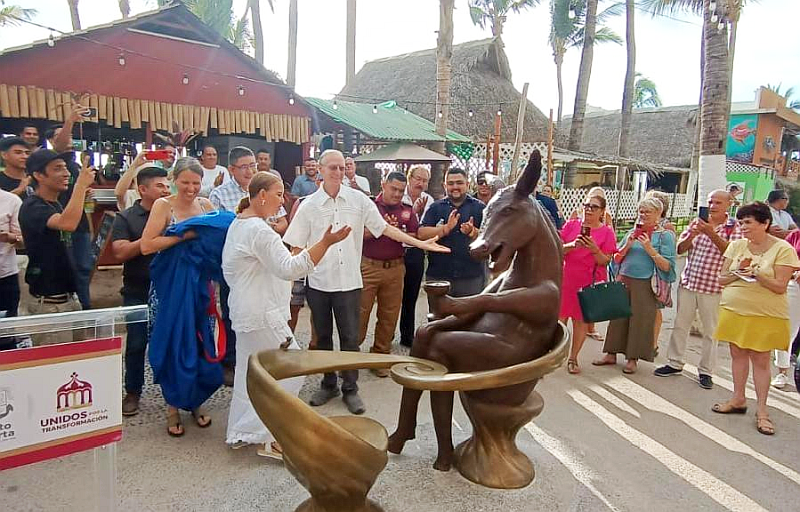 Puerto Vallarta, Mexico – Most of us are familiar with Jim Demetro. He is the talented sculptor who has donated to the people of Vallarta such monumental pieces as the Vallarta Dancers, one of the most photographed sculptures on the Malecón, and Andale Bernardo, the bronze of a burro being pulled and pushed by small boys, that enhances the Lazaro Cardenas Park.
His latest public work, entitled "Salud" (Health), was unveiled on Monday in one of the most emblematic tourist areas of Puerto Vallarta, on the Malecón II near Lazaro Cardenas Park. It is a bronze sculpture of a humorous nature that represents a donkey sitting on a stool with a margarita glass 'in hand' and a connected chair where a visitor can sit in front of the donkey and raise their glass as well.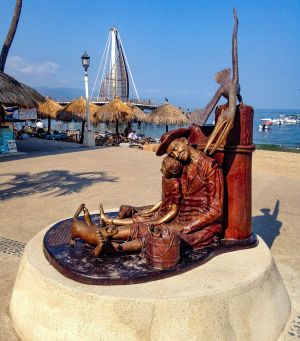 Originally from the south side of Chicago, Demetro has created over 60 public life-size sculpture installations nationally and internationally. Here in Vallarta, his public works include the aforementioned Vallarta Dancers (2006) and Andale Bernardo (2014), as well as La Lavandera (2008), and "Los Pescadores" on Malecón II at Manuel M. Diéguez (2018).
During the unveiling of this latest work, the director of the Vallartense Institute of Culture, Luis Escoto Martínez, recognized the talent of Jim Demetro and thanked him for his contribution to the community through his life-sized sculptures that adorn some of the busiest walkways in Puerto Vallarta.
"As you know, Vallarta began its economic activity not only with fishing, but with the jobs and activities derived from the Cuale mines. At that time donkeys, which, as we well know, are characterized by being noble and hard working animals, were used to carry products and materials up and down the mountains. Without a doubt, these animals, which made this complex task easier, are a reference to the memories of our region. I am pleased that Councilor María Elena Curiel took the necessary steps to have such an emblematic sculpture of such dimensions with this characteristic animal for the interaction of anyone who wishes to toast in an empathetic and ingenious way," Escoto Martínez said.
For her part, Councilor María Elena Curiel Preciado, president of the Education, Innovation, Science and Technology Commission, read the plaque and thanked Jim Demetro "for his altruistic work in favor of the culture of Puerto Vallarta, creating the five sculptural works of his inspiration that he has donated to our city, benefiting the cultural aspect of it".
Municipal officials, members of the Vallarta Institute of Culture's Governing Board, friends and relatives of the artist and art lovers were also present at the unveiling.