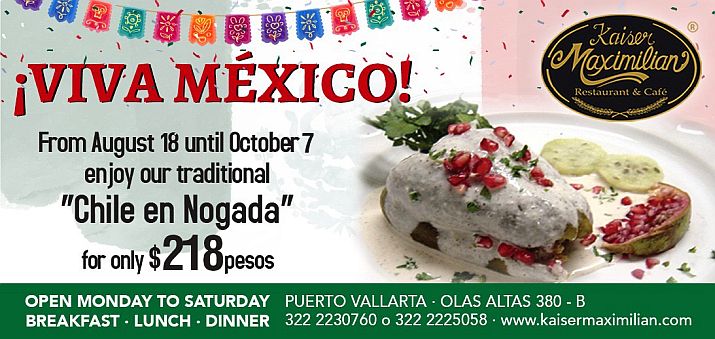 Puerto Vallarta, Jalisco, Mexico – Kaiser Maximilian, a popular restaurant in Puerto Vallarta, is breaking tradition by embracing the spirit of El Mes de la Patria well before September. The symbolic Mexican dish, Chile en Nogada, synonymous with this patriotic season, is already available on the menu.
Originating in Puebla, Chile en Nogada distinguishes itself from typical chile rellenos. Crafted from red, white, and green ingredients symbolizing Mexico's flag, it features a roasted chile poblano stuffed with a delectable sweet-savory mixture of pork and fruit picadillo. The dish is served at room temperature, accompanied by a delicate fresh walnut cream sauce topped with pomegranate seeds.
The story behind this traditional delicacy is as remarkable as its ingredients. Dating back to ancient times, Chile en Nogada's creation stems from nuns in Puebla, Mexico seeking a dish for Agustin de Iturbide upon his return after signing Mexico's Declaration of Independence from Spain in 1821.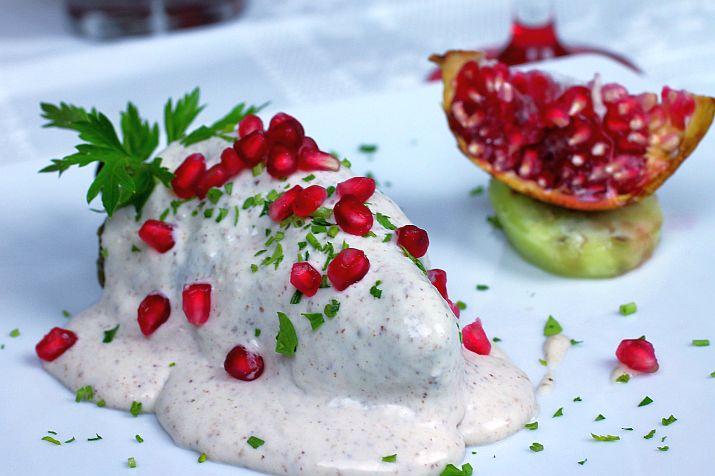 To commemorate the occasion, the nuns ingeniously combined ingredients – green poblano peppers filled with meats and fruits, a white creamy walnut sauce, and vivid red pomegranate seeds – mirroring Mexico's newborn flag colors and newfound independence.
Just as Iturbide ascended to become Mexico's First Constitutional Emperor in 1822, Chile en Nogada climbed to culinary prominence, becoming one of Mexico's most renowned dishes.
While this culinary masterpiece is typically savored throughout Mexico in September, Kaiser Maximilian's offering is a unique standout. Using beef filet and a touch of pork loin, their rendition of Chile en Nogada claims the title of Puerto Vallarta's finest. A vegetarian version is also available to cater to diverse tastes.
Diners have the opportunity to enjoy this Mexican specialty in Kaiser Maximilian's air-conditioned dining room or at its charming "very European" sidewalk tables from now until October 7, 2023. As Kaiser Maximilian takes the lead in celebrating El Mes de la Patria, diners can savor the flavors of tradition ahead of time.

Open Monday-Saturday from 8 am to 11 pm for breakfast, lunch and dinner, Kaiser Maximilian Restaurant & Cafe is located at Olas Altas #38B in the Zona Romántica of Puerto Vallarta. For reservations call (322) 223-0760 or visit KaiserMaximilian.com