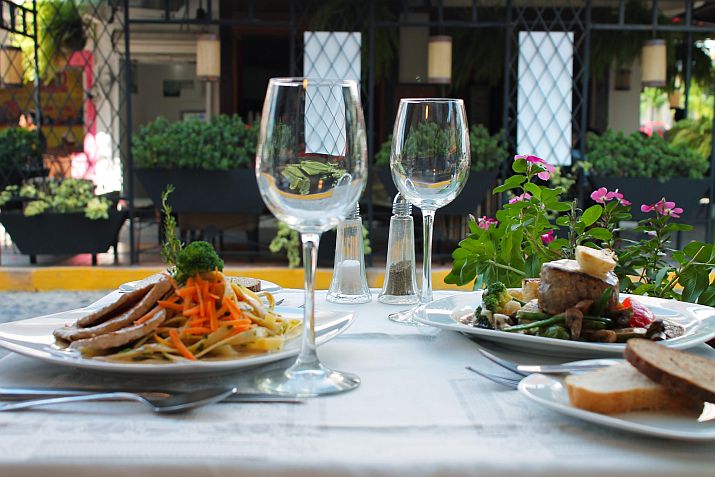 Puerto Vallarta, Mexico – After a short summer vacation, Kaiser Maximilian, one of Puerto Vallarta's finest restaurants, returns July 20th with a special $595 peso, three-course menu they'll be serving for lunch and dinner through August 15th.
During this special Summer promotion, Kaiser Maximilian offers you a choice of 10 appetizers, 10 entrees and 8 desserts – all developed from authentic family recipes. No matter which you choose, all of the dishes are expertly prepared with quality ingredients and graciously served in an European bistro atmosphere.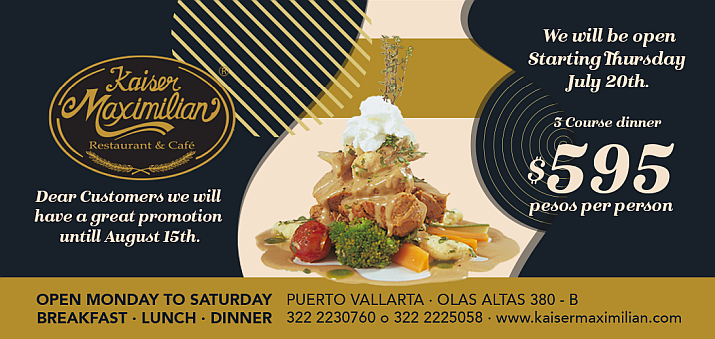 Kaiser Maximilian's Special Summer Menu
Served from 12 noon until 11 pm through August 15th for just $595 pesos with your choice of one dish from each course:
Appetizers
Cold cucumber cream soup with mango, radish and caviar
Gnocchi with mushrooms, spinach and truffle sauce
Caesar salad with crispy potato croutons
Marinated beets and carrots, berry sauce, fine greens, goat cheese
Grilled octopus, chickpea purée, pickled onions, balsamic vinegar gel sauce
Sautéed squid, cauliflower puree, charred baby broccoli, passion fruit vinaigrette
Raviolis with fennel filling, prosciutto, mushrooms and tarragon sauce
Onion soup with white wine, toast and gratinated cheese
Garlic and herb flavored bread soup
Red cabbage cream soup with roasted duck crust, potato dumpling
Main Courses
Salmon fillet, Angel hair pasta, mozzarella, asparagus, red wine sauce
Trout fillet with Speck raisin nage, herbs and celery purée
Red snapper fillet with shrimp sauce, potato puree, celery and fennel
Shrimp, fish, chicken stir-fry, red pepper, green rice, chipotle sauce
Beef tenderloin, creamy gorgonzola, vegetables, mushrooms, potato gratin
Zwiebelrostbraten, flat pounded beef loin, Austrian onion rings, sautéed potatoes
Chicken breast stuffed with spinach and ricotta, gnocchi, lemon sauce, dill oil
Roasted leg of veal, vegetables, Spätzle, mushrooms sauce
Wienerschnitzel, breaded pork loin with potatoes and Austrian salad
Rahmschnitzel, sautéed pork loin escallops with noodles and a cream mushroom sauce
Desserts
Linzer tart with yogurt ice cream and berries
Chocolate pot de creme, caramel mousse, sea salt
Sour cream cheesecake, coconut crust, rum poached pineapple, strawberries
Austrian Apple Strudel with vanilla ice cream
"Sacher" chocolate cake with mint ice cream
Vanilla ice cream covered with a hot crepe, chocolate sauce, pecans
Crème Brulée, vanilla cream under a caramelized sugar crust
Copa Maximilian, vanilla and pecan ice cream, bananas, Kahlúa, whipped cream
Kaiser Maximilian's Special Summer Menu is being served at the Espresso Bar from 12:00 noon until 11:00 pm and in the Main Dining Room from 5:00 to 11:00 pm through August 15th. The regular a la carte menu is also available. Reservations are recommended.

Open Monday-Saturday from 8 am to 11 pm for breakfast, lunch and dinner, Kaiser Maximilian Restaurant & Cafe is located at Olas Altas #38B in the Zona Romántica of Puerto Vallarta. For reservations call (322) 223-0760 or visit KaiserMaximilian.com