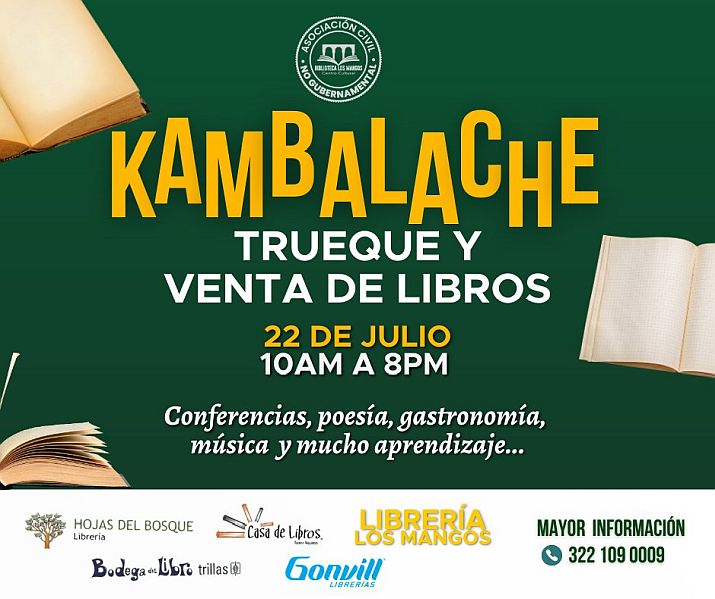 Puerto Vallarta, Mexico – On Saturday, July 22 from 10 am until 8 pm, the Puerto Vallarta Public Library, Biblioteca Los Mangos, will host 'Kambalache', a fun filled event for book lovers. Everyone is invited to come out to the library to enjoy conferences, collective learning, poetry readings, music, food and fun!
The best bookstores in Puerto Vallarta, including Bodega del Libro, Hojas del Bosque, Casa de Libros, Gonvill and, of course, the Los Mangos Book Shop will come together to offer a wide selection of works that will transport you to fascinating worlds through stories old and new.
Bring your book and exchange it for one of your liking with one of the guests, or acquire some of the hottest new books on the market at irresistible prices.
Throughout the day, the library will buzz with excitement as book lovers and enthusiasts gather to celebrate 'Kambalache'. The atmosphere will be filled with music, the aroma of local cuisine, and the sound of conversations centered around the love for literature.
As the clock strikes 8 pm, the 'Kambalache' event will draw to a close, leaving behind memories that will linger in the hearts of book lovers. It will have been a day of discovery, connection, and celebration of literature. Attendees will depart, clutching their newly acquired books and a renewed love for the written word, eagerly awaiting the next literary gathering at the library.
For more information call 322-224-9966 or Click HERE to send a message to Biblioteca Los Mangos via WhatsApp.
Open Monday-Friday from 10 am to 9 pm, and from 10 am to 4 pm on Saturday, Biblioteca Los Mangos is located at Av. Francisco Villa 1001, Col Versalles, Puerto Vallarta. For more information, call (322) 224-9966, send an email to losmangoslibrary(at)gmail.com, or visit BibliotecaLosMangos.org.