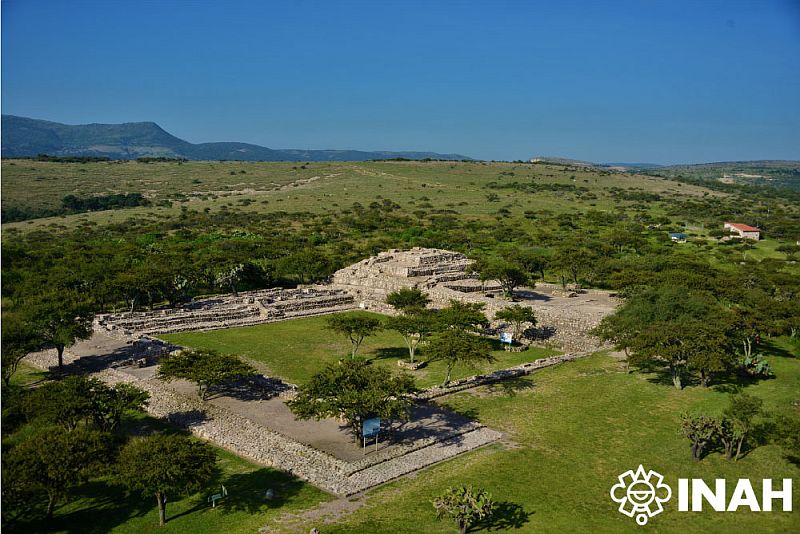 Mexico City – The pre-Hispanic site of Cañada de la Virgen, located near the picturesque mountain town of San Miguel de Allende, Guanajuato, was declared an Archaeological Monuments Zone by presidential decree on Tuesday, according to the National Institute of Anthropology and History (INAH).
The site, a large complex of stone temples and other structures, is the forty-ninth Archaeological Monuments Zone declared in Mexico and the first signed in the administration of President Andrés Manuel López Obrador. This measure provides protection against commercial development and other construction projects.
Cañada de La Virgen is a pre-Hispanic settlement of Hñähñu (Otomí) origin, which the ancient inhabitants built from the contemplation of the route of the sun, in such a way that its temples present a symmetrical alignment with the stars, characteristics that make it a unique city among the Mesoamerican ceremonial centers.
The site had its heyday between 600 and 900 AD, during the Mesoamerican Epiclassic period. Its architectural pattern is composed of an axis of symmetry directed to the rising and setting of the sun and the moon, and a defensive position that visually dominates the central basin of the Laja River, indicating its ritual importance.

The ancient Otomi settlements clustered mostly around present-day Mexico City and the territories of the central states of Guanajuato, Hidalgo, and Puebla, before being conquered by the Aztecs in the 14th century and incorporated into their growing empire.
Some of its structures follow Teotihuacan architectural traditions, modified and adapted to local patterns, probably related to the population movements that preceded and were part of the fall of Teotihuacan.
Scholars believe that an archaic version of the Otomi language spoken today may have been the language of Teotihuacán, the ancient metropolis near the Mexican capital and home to towering pyramids and temples.
INAH added that past archaeological digs at Cañada de la Virgen have revealed artifacts from both the Pacific and Atlantic coasts, suggesting it was located along a major trading route.
The data of the material culture found during the excavations indicate that the priestly elite class lived there and around the ceremonial center were the populations that spread to other places in the region, which visited Cañada de la Virgen in processions and pilgrimages.
National Institute of Anthropology and History press release translated and edited by BanderasNews.com.