Puerto Vallarta, Mexico – During these difficult times, so many of us are feeling more anxious. You know I believe that food influences mood, so I've been loving mood-boosting recipes lately. This Green Tea jello is one of my go-tos for its flavor and relaxing effect on the body.
You might be thinking ewww jello! But I'm not talking about the sugary, powdered, jello mixes we grew up with as kids. I mean healthy gelatin for energy and easy digestion. Plus, gelatin is rich in glycine, which reduces anxiety.
My two favorite jellos to share with patients are my antioxidant-rich Roselle jello and this Green Tea jello.
Green Tea is a gift to our bodies and minds. It is rich in theanine, a relaxing amino acid, which can help us stay calm and reduce anxiety. A great alternative to coffee, it also has a touch of caffeine. As much as I love drinking green tea, it can be nice to switch it up a bit. And, what's better than slurping it in as a dessert?
I think you will love this yummy, nutritious dessert. It's especially fun to make with children, so they can watch the dissolved powder change form.
Ingredients:
• 1 c. extra strong Green tea (can use matcha leaves or ½ tsp of Green tea powder)
• 2 tbsp. gelatin
• 1 c. boiling water
• 5 drops of stevia or 1 tsp. honey (sweetener is optional)
• ½ c. fresh fruit (raspberries or blackberries)
Directions:
• Make 1 cup of green tea. Set aside until warm.
• Pour the warm liquid into a large mixing cup, and add the gelatin powder.
• Boil 1 cup of water.
• Add the cup of very hot water and stir until it is thinner.
• Stir briskly until mixed – it will start to thicken a lot.
• Place the fruit into an 8×8 glass baking dish. Pour the mixture over the fruit and make sure it has coated the fruit.
• Put in the fridge, covered, for at least 3 hours, or leave overnight, and serve with coconut milk, real whipped cream, or top with sliced almonds.
BN Editor's Note: For more recipes like this, order your copy of Dr. Korn's book, "The Good Mood Kitchen: Simple Recipes and Nutrition Tips for Emotional Balance" from Amazon.com.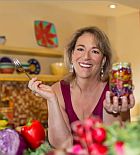 Leslie Korn has lived and worked in Banderas Bay since 1973 conducting research in Traditional Medicine of Mexico. She is a Harvard Medical School and Harvard School of Public Health-educated clinician in clinical practice in Mental Health Nutrition, Integrative Medicine and the prevention of dementia and cognitive decline. She is the author of 8 books, including 'Natural Woman: Herbal Remedies for Radiant Health at Every Age and Stage of Life.' To learn more about her work, visit DrLeslieKorn.com. She can be reached at lekorn(at)cwis.org.


Click HERE to read more articles by Leslie Korn.