Puerto Vallarta, Jalisco, Mexico – While Shakshouksa may seem complicated to pronounce ('shack-shoek-sah'), it is quite simple to prepare this recipe that steams eggs in a rich tomato sauce. This dish will have your guests ooh-ing and ah-ing when you serve it straight from the pan at brunch, or for dinner.
Shakshouksa originated in Tunisia and is now enjoyed all over the world. It's similar to the Mexican dish chilaquiles, though instead of an oregano and basil red sauce, it emphasizes a paprika and cumin-flavored profile.
This vibrant dish will fill you with long-lasting energy, thanks to the protein-packed, brain healthy eggs and the hint of paprika, one of those magical, medicinal spices you are already likely to have in your pantry.
Ranging from smoky to spicy, to even a little sweet, paprika is an antioxidant that is not only good for digestion and a healthy gut, but also imparts a beautiful color to your food.
Tip: Antioxidants are usually bright in color so they are easy to spot: paprika, turmeric, carrots, beets, etc. While each "color" food is an antioxidant with slightly different health benefits, all antioxidants help to keep our cells young, healthy, strong, and immune to disease. So add a little more color into your diet!
For more tips on incorporating the spices and herbs you may already have in your pantry into your diet, check out the Spice Medicine chapter in my new book, Natural Woman, forthcoming in December.
Shakshouksa Recipe
Serves 4 to 6
Ingredients:
4 tbsp virgin cold-pressed olive oil
1 small onion, finely chopped
1 clove garlic, finely chopped
1 red bell pepper
2 cans (14.5-ounce) of chopped tomatoes
4 roma tomatoes, diced
2 tsp ground smoked paprika
2 tsp ground coriander
1/2 tsp ground cardamom
1/2 tsp caraway seeds
1/2 tsp sea salt
1/2 tsp freshly ground black pepper
Pinch of ground cayenne pepper (optional)
4 to 6 free-range, organic eggs
Feta cheese crumbled (optional)
Fresh cilantro or parsley, chopped
Directions:
In a deep sauté pan over medium heat, add the olive oil and sauté the onion, garlic, and bell pepper. When the onions are translucent, add all the tomatoes, stir, and then add all the spices and let simmer on low heat for 30 minutes. Make small indentations in the sauce for each egg and then gently pour an egg into each one. Sprinkle with feta cheese, (optional), cover, and cook for 5 minutes on low or until the eggs are fully cooked. When you are ready to serve, add 1 or 2 eggs to a plate with plenty of sauce and top with fresh chopped cilantro or parsley.
Do you want more recipes full of spices? Preorder Natural Woman today!
---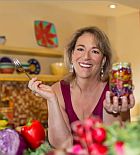 Leslie Korn has lived and worked in Banderas Bay since 1973 conducting research in Traditional Medicine of Mexico. She is a Harvard Medical School and Harvard School of Public Health-educated clinician in clinical practice in Mental Health Nutrition, Integrative Medicine and the prevention of dementia and cognitive decline. She is the author of 8 books including 'Natural Woman.' To learn more about her work, visit DrLeslieKorn.com. She can be reached at lekorn(at)cwis.org.

Click HERE to read more articles by Leslie Korn.