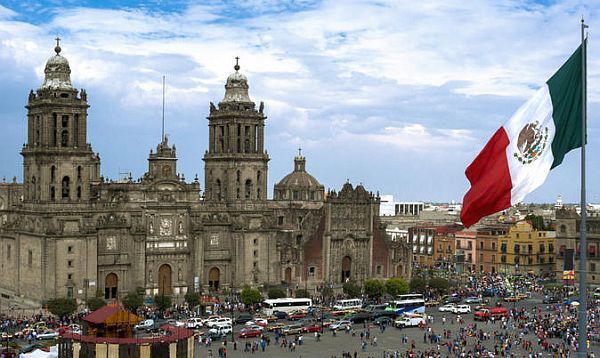 Puerto Vallarta, Jalisco – Mexico City, the Capital of Mexico and one of the biggest cities in the world, is a MUST when you visit Mexico. There is no other place in this country that offers so much history, great architecture, excellent food and exciting nightlife.
In fact, Mexico City has enough attractions to keep first-time visitors occupied for weeks. But who wants to spend that much time away from Puerto Vallarta? Fortunately, Superior Tours Vallarta offers a 5 day/4 night tour of Mexico City led by an experienced guide who knows the city, its history, and the nicest places to visit.
Superior Tours Vallarta been organizing tours to Mexico City for more than 13 years, and their professional tour guides know the best way to experience all of the city's highlights.
According to owner Astrid van Dam, "During this 5 day/4 night tour, we visit the Historic District, the floating Gardens of Xochimilco, the Frida Kahlo Museum, and of course, the Pyramids of Teotihuacan. Our hotel, Plaza Florencia (or similar) is located in the Zona Rosa; famous for its many restaurants, bars and clubs. There's no time to get bored during this tour!" Here's a look at the itinerary:
Day 1: Puerto Vallarta-Mexico City (Thursday)
Arrival in Mexico City. If you fly with the group we will transfer you to the hotel. If you take another flight, please take a taxi to our hotel, which is located in the Zona Rosa. Since arrival is in the afternoon, and there are many restaurants nearby, we will give you some suggestions for where to have dinner.
Day 2: Historic district and Museum of Anthropology (Friday)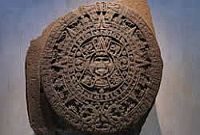 After a welcome briefing in the hotel, we will start our guided city tour. We will see the City from the Torre Latino Americana, 44 floors high. After that we will take you to the National Palace to see the famous murals by Diego Rivera.
In ancient times, Mexico City was called Tenochtitlan. An estimated 250,000 Aztecs used to live there, by that time it was already the biggest city of the world. The remains can be seen at the Templo Mayor, next to the Zocalo, and of course a visit to the Cathedral should not be missed.
In the afternoon we visit the Museum of Anthropology and History. We will show you all highlights of this unique museum, which has been open to public since 1966. Basically all treasures that have been found in archaeological sites throughout the country are housed there, including the Aztec Calender. There could not be a better place to get to know the complete history of Mexico.
Day 3: Pyramids and Basilica de Guadalupe (Saturday)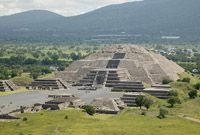 After breakfast we will leave the hotel at 8:30 am for a visit to Mexico City's most important church – the Basilica of Guadalupe. Nuestra Señora de Guadalupe is the patron Saint of Mexico and is visited by millions of Mexicans every year.
Our next stop is Teotihuacan, where you can climb the pyramids. Teotihuacan was constructed between 200 BC and 700 AC by an unknown tribe that we later called the "Teotihuacanos." The Aztecs called it "The City of Gods." The temple of Quetzalcoatl, the pyramid of the Sun, and the temple of Quetzalpapálotl are just a few examples of what you can expect to see there.
In the afternoon, we will bring you to a demonstration of how the indigenous people used to work obsidian, a volcanic stone, far more precious than gold for ancient tribes in Mexico. We'll return to our hotel around 4:30 pm, so you will have some time to do things on your own.
Day 4: Frida Kahlo Museum and Xochimilco Floating Gardens (Sunday)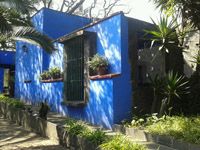 Our first stop of the day is the Frida Kahlo museum. The "Casa Azul" was house where Frida grew up. Now it is a museum, where you can see original paintings by both her and Diego Rivera. After this tour you have some free time to see Coyoacan. This is a wonderful place to visit, especially on a Sunday! The main plaza is one of the liveliest on the whole country.
Later in the afternoon we will head to Xochimilco. This place is one of the most colorful places that you can see in Mexico. Here we will make a boat trip along the "floating" gardens, while we listen to the Mariachi musicians. At night you can take an optional tour to the Famous Ballet of Amalia Hernandez in the Bellas Artes Theatre.
Day 5: Back to Puerto Vallarta (Monday)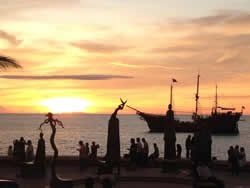 Depending on the time of your flight back you most likely will have time to stroll around in the Zona Rosa/La Condesa, do some shopping in the modern malls or traditional markets of Mexico City. We will give you plenty of suggestions.
If you fly with the group we will transfer you to the airport. In case you fly back late at night you can store your luggage in the hotel. Also, you can extend your stay for a supplemental charge so that you can take, for example, a day tour to Puebla, 'The City of Angels,' or Taxco, 'Silver City.'
The next Superior Tour to Mexico City is scheduled for February 9-13, 2017. Prices range from $649-4749 USD per person, which includes: 4 nights in a centrally located comfortable hotel in the Zona Rosa; 4 breakfasts; guided tours as described below in a comfortable (mini)bus with a/c; museum entrance fees and all taxes. Transportation to/from Mexico City is NOT included.