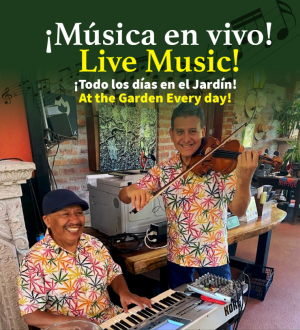 Puerto Vallarta, Mexico – Since opening to the public in 2005, the Vallarta Botanical Garden (VBG) has made a name for itself as one of the most beautiful natural areas in the Banderas Bay region, providing not only enticing surroundings in which to relax, but also a feast for all of the senses.
The Gardens showcase native Mexican flora and fauna, and Summer is one of the best times to visit as the rains make flowers burst into life, releasing a rainbow of color and an aromatic redolence of calm and tranquility.
Inspiring landscaped grounds, stunning plant conservatories, and adventuresome trails through a magnificent native forest preserve are filled with wondrous sights and fragrances, while the sounds of the river splashing and the calls of Military Macaws and other species of wild birds fill the air.
The centerpiece of the Botanical Garden is the visitor's center that is home to the Garden's gift shop and its celebrated restaurant, Hacienda de Oro, which is now showcasing live music to complement the delicious Mexican specialties and tantalizing beverages it serves.
Every day from 1:00-3:00 pm, a Mexican duo, the wonderful violinist Hector Aguiar, who often plays at La Cappella, and talented keyboardist Sergio Cancino, who frequently plays at the club Luccas in Marina Vallarta, entertain with marvelous music.
Come and enjoy a beautiful day, luscious dining and live entertainment at the Vallarta Botanical Garden. Every month something different is in bloom, so there's something new to experience, and the Garden's location in the mountains, at an elevation of 1,500 feet above sea level, offers a rejuvenating and much cooler micro-climate that is always a delightful surprise to visitors.
Visit the internationally famous Vallarta Botanical Garden located just 30 minutes south of Old Town at Km. 24 on Highway 200 and easily accessible by public transportation and taxi. This 74 acre wildlife preserve and botanical garden have something fun for everyone. Over 200 species of birds have been observed on the Garden's grounds. Don't forget to bring your swimsuit for a refreshing dip in the jungle river. See plantings of vanilla, chocolate, and hundreds of other botanical delights! Authentic Mexican Cuisine is served in the Hacienda de Oro Restaurant from 10 am to 5 pm. The Garden is open daily from 9 am to 6 pm (closed Mondays from April 1 to December 1). Garden admission is just $300 pesos. For more information, call (322) 223-6182 or visit vbgardens.org.