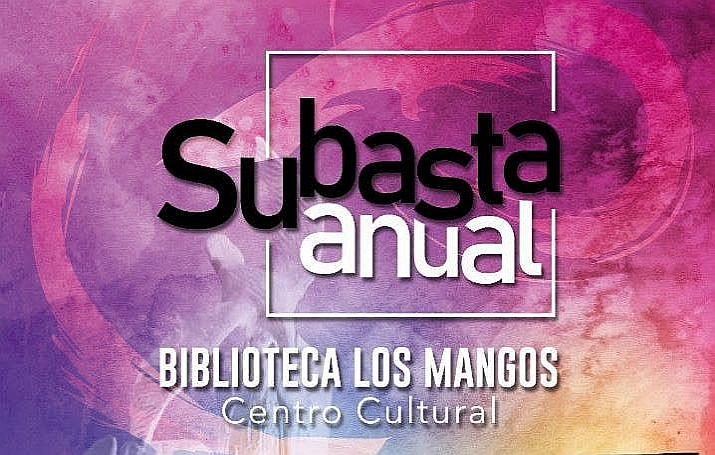 Puerto Vallarta, Mexico – Get ready folks! It's time for the annual "Subasta de Arte" to raise funds for the Puerto Vallarta Public Library, Biblioteca Los Mangos.
The Annual Subasta y Venta de Arte (art auction and sale) is the biggest fundraising event for Los Mangos which, since its inauguration in 1996, has been a valuable community resource, providing free access to information, extracurricular education, artistic initiation & creation, the strengthening of community dialogue and countless social and civic initiatives.
Scheduled to take place from 6-10 pm on Thursday, March 16, 2023, this 22nd annual event presents a unique opportunity for renowned artists, young creators, art lovers, and friends of the Library to come together for a single cause: to raise the funds that make it possible for Los Mangos to continue its mission of encouraging learning, culture and arts in the community, which has been its sole purpose for the last 27 years.
An exuberant gathering of the visual arts community where artists, collectors, art entrepreneurs and friends can mingle and bid while enjoying art, food, drinks, and music, the art auction is the library's most important fund raising event of the year.
The Subasta is vast with numerous paintings to be auctioned off, and the silent auction and art sale give everyone a chance to bid on all kinds of great items – from hotel stays and spa treatments to fine dining certificates and more – all at a good price and for a good cause.
Make plans now to attend the 2023 Subasta de Arte on March 16th. Admittance is free, but please keep in mind that if you make a purchase or a donation, you will be contributing to a non-profit community organization that brings Value, Inspiration, Training and Opportunities to people of all ages, social conditions and nationalities, in the greater Banderas Bay area.
Biblioteca Los Mangos is located at Av. Francisco Villa 1001, Col Versalles, Puerto Vallarta. For more information, call (322) 224-9966, send an email to info(at)bibliotecalosmangos.org or visit BibliotecaLosMangos.org.