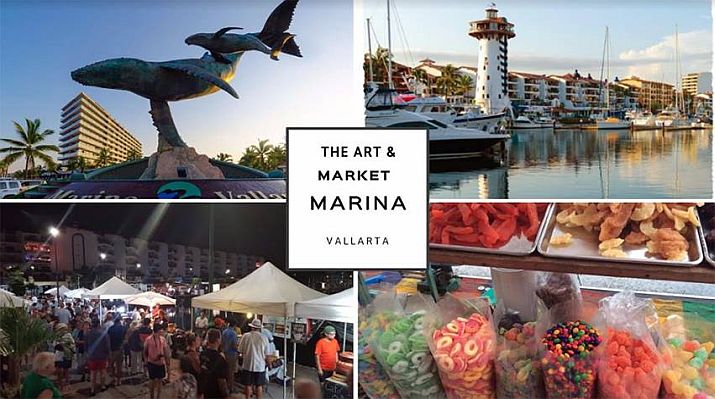 Puerto Vallarta, Jalisco, Mexico – The ever-popular Marina Vallarta Art & Market returns October 28 and will run every Thursday night from 6:00 to 10:00 pm through May 31, 2022. Held all along the Marina Malecón, market shoppers will find art, artisan jewelry, organic products, homemade bread and clothes among many other things in a relaxed and friendly atmosphere.
Add to that delicious food & drinks, live music, amazing art, beautiful scenery and spectacular sunsets, and a visit to Marina Vallarta Art & Market is an exciting experience for all the senses.
Art & Market coordinator Antonio García, of the Marina Vallarta Residents Association, says that this event has evolved from being a traditional 'farmers market' to a large market that features between 180-200 booths offering a wide variety of culinary and artisan products.
"Here you can find many products: from traditional esquites, nieves de garrafa, paella and pasteles caseros to Italian gelato, donuts, Arabic & French breads, crepes, artisan pizzas, organic cheeses, liqueurs… the list goes on and on."
And as far as art and crafts are concerned, he said that there will be "Huichol art from regional producers, traditional cigars, handmade clothes and bags, leather huaraches, silver jewelry and other handicrafts, all handmade by local artists."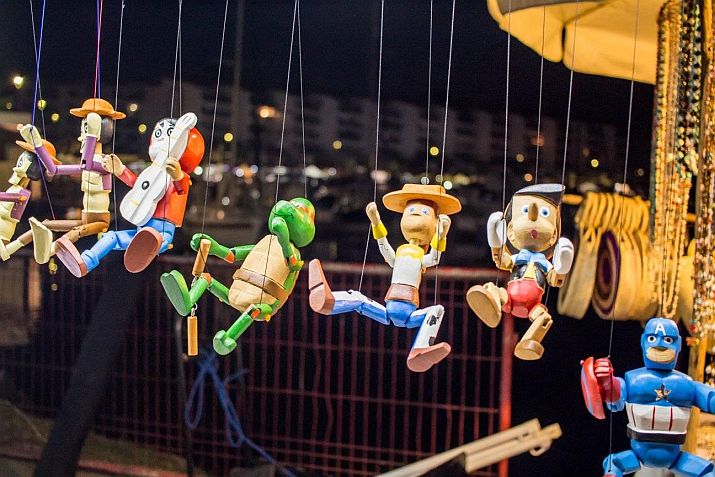 As for what surrounds the products, he emphasized that every Thursday there will be live music. "Folkloric dancers, Mariachi and many other versatile musical groups will add to the weekly market's festive atmosphere," he said.
The Market's festive atmosphere is amplified during holidays and at special times of the year, Garcia explained. "We start off with everything that involves the Day of the Dead (and Halloween for the American community); then we have Thanksgiving items; in December it becomes a Christmas market; in January we have roscas and other articles for Three Kings Day; in February the market is filled with jewelry and gifts for Día del Amor y la Amistad (Valentine's Day); in March we are adorned for spring; and in April and May, gifts for mothers are offered, so there is something for each monthly celebration from October to May."
"The highlight," he said, "is that only handmade items will be offered at the Marina Vallarta Art & Market. There are no industrialized products, nor things made in other countries; everything offered is handmade by local producers."
The organizer mentioned that although there is a significant presence of tourists and part-time residents during "high season," the market is for everyone. "Everything is offered with the intention of bringing life to Marina Vallarta and commercial success to its shop and business owners," he said.
Everyone is invited to come out and enjoy this seasonal attraction on Thursdays from 6:00 pm to 10:00 pm. After you've explored all of the Marina Vallarta Art & Market booths to your heart's delight, you can end your fun-filled evening at one of the many restaurants and bars in this vibrant area.
Note: For the safety of market visitors and vendors, all government Covid protocols are in place.