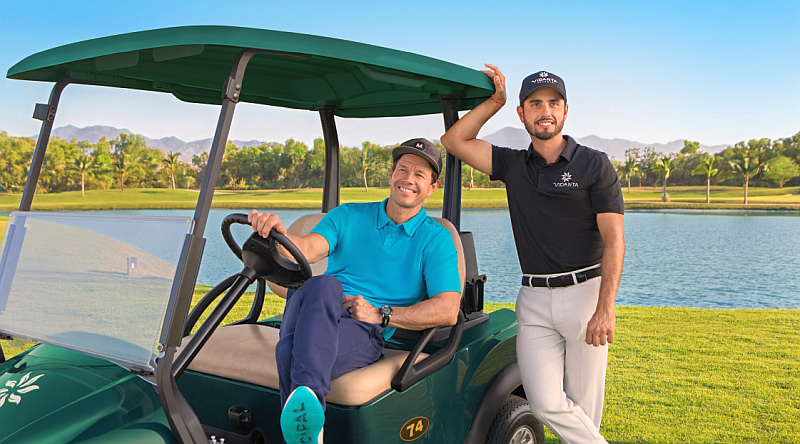 Mexico City – Ahead of the Mexico Open at Vidanta, which will take place from April 27-30 at Vidanta Nuevo Vallarta, the brand has released an entertaining new video featuring Hollywood actor Mark Wahlberg and professional golfer Abraham Ancer.
In the video, Mark Wahlberg jokingly distracts Abraham Ancer as he tries to play golf. Displaying bad golf etiquette, Wahlberg tries to make it harder for Ancer to focus on his game. Some of the dialogue in the video was ad-libbed by Wahlberg because the duo was having such a naturally fun time while filming the piece for Vidanta and their tequila Flecha Azul.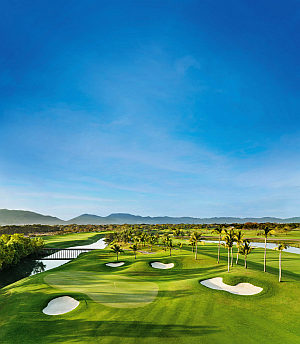 While the video is lighthearted, Vidanta is serious about golf. The second consecutive Mexico Open at Vidanta will take place at the Vidanta Vallarta golf course from April 27-30, 2023. The tournament is an official PGA TOUR event that will feature 144 professional golfers competing for a purse of $7.7 million and 500 FedExCup points. As the leading course developer in Latin America, Vidanta cultivates truly unique golf experiences. From beautiful and challenging courses designed by the game's biggest names, including Jack Nicklaus and Greg Norman, to best-in-class training facilities, Vidanta Golf offers golfers extraordinary ways to play in paradise.
"We are thrilled to have Mark Wahlberg and Abraham Ancer join us for this video, which showcases not only our beautiful Vidanta resort, but also the captivating beauty of Mexico," said Ivan Chavez, executive vice president of Grupo Vidanta. "The video captures the playful spirit of our brand, while highlighting the world-class golf facilities, breathtaking scenery, and the warmth of Mexican hospitality that Vidanta is known for."
"We at Flecha Azul are beyond thrilled to partner with Vidanta Resorts, Mexico's premier luxury vacation destination. The combination of our exquisite tequila and Vidanta's unmatched hospitality creates an unparalleled experience for all guests," said Aron Marquez, Co-Owner of Flecha Azul. "Together, we'll elevate the essence of Mexico with every sip, proving that Flecha Azul is truly the best tequila in the market."
The video, which takes place on the Greg Norman-designed Vidanta Vallarta golf course, showcases the stunning resort property and its luxurious amenities. Wahlberg's signature Flecha Azul tequila also makes an appearance in the video and is featured throughout the resort's bars and restaurants. The video is part of Vidanta's ongoing efforts to promote its properties to a global audience. With its picturesque location on Mexico's Pacific coast and world-class hospitality, Vidanta Nuevo Vallarta is a premier destination for travelers seeking luxury and relaxation.
"We are confident that this video will resonate with audiences and inspire them to visit our incredible resort and explore the captivating beauty of Mexico," said Chavez. "We invite everyone to come and experience the magic of Vidanta and the enchanting allure of Mexico for themselves."
The video is now available for viewing on Vidanta's social media channels and at vidanta.com/golfetiquette. For more information about the resort and its amenities, visit vidanta.com.