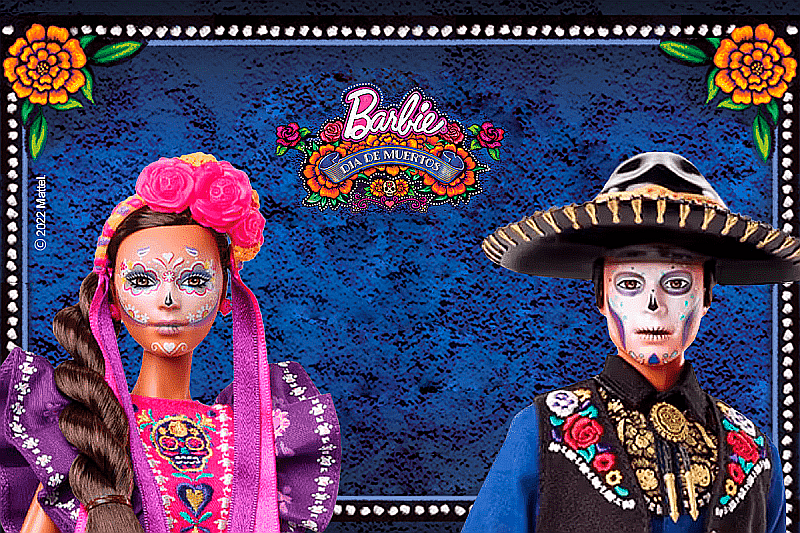 Puerto Vallarta, Mexico – One of the best-known celebrations in México and around the world, the Day of the Dead, is right around the corner and, for the fourth consecutive year, Barbie and Ken return dressed for the occasion.
Created by Mexican-American Barbie designer Javier Meabe, Barbie and Ken are transformed into calacas (skeletons) as part of Mattel's ongoing Día De Muertos series, honoring the customs, symbols, and rituals often seen throughout this festive time of remembrance.
Mattel began its own tradition of the Day of the Dead Barbie in 2019 and from then on, year after year, toy collectors look forward to these dates to discover the new edition of the most famous doll in the world. This month sees the launch of the 4th edition of Barbie and the 2nd of Ken.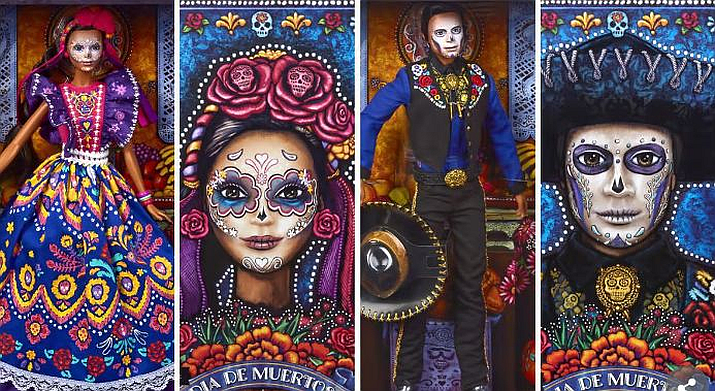 The 2022 Día De Muertos Barbie doll celebrates the time-honored holiday, wearing a ruffled dress in a rich royal purple, with pigment-print skeletons, sugar skulls, and flower details. As for the accessories, they are amazing! No detail was lost, starting with her dark blue pointed shoes, bracelets of different thicknesses including a bracelet with skulls and flowers, even her nails painted in Mexican pink, to go through the bone belt and a crown made of roses. All of which highlights the beauty and culture of Mexican heritage.
For Día De Muertos 2022, Ken doll features a charro look sporting a bright blue shirt under a vest with skulls, flowers, roses, and bones in rich tones. His black shoes combine with the rest of the accessories such as a belt with a golden skull buckle and a charro bowtie around his neck, also with golden details. The look is finished with his matching hat.
According to Hola! Lifestyle, for the 2022 series, Javier wanted the dolls to expand the Día De Muertos world.
"For this year's doll, I worked very closely with our Latin American partners. I wanted the design to be full of vibrant colors and artwork. I lined up the previous Día De Muertos dolls and was inspired to bring some newness to this year's line by giving Barbie a color-blocked dress with embroidery and pigment print artwork. I then used calavera makeup, marigolds, and sugar skull skeletons to tie all the previous dolls in the series together to feel like they are all from the same environment," the Barbie Designer at Mattel said.
According to Vivir Mejor, both Barbie and Ken's 2022 Day of the Dead costumes have colored embroidery with motifs that enhance the beauty of this tradition. and, to make them look worthy of this special occasion, they both wear the calavera makeup that gives their faces a skeletal look.
Now available at Amazon.com.