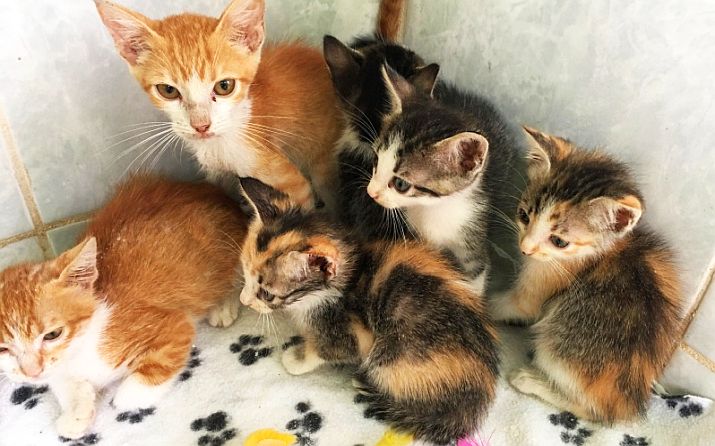 Puerto Vallarta, Mexico – The latest news from PuRR Project, a non-profit, no-kill feline shelter located just north of Puerto Vallarta, Mexico, that provides homeless cats and kittens a recuperative stay with the ultimate goal of adopting them out to loving homes sterilized, vaccinated and disease free.
THE PURR NURSERY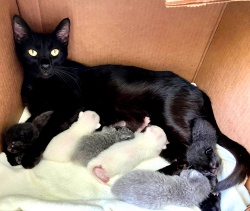 We never have a shortage of kittens in the nursery but now PuRR is also full of babies… with 21 born at the shelter after 4 pregnant cats were abandoned there this Spring! Dra. Eva and Dr. Alberto will be working extra shifts to make sure they are all spayed and neutered before being put up for adoption.
Unfortunately, adoptions were very slow in April with only four kittens finding a Forever Home at Petco. We are hoping to have better luck this month! If you are interested in meeting one of our sweet kittens, we are at the PetCo Adoption Center every Saturday and Sunday.
SHELTER UPDATE
The cost for running the shelter is currently over $6,000 USD a month… assuming no emergencies! At COSTCO each month we purchase about 56 large bags of cat food for the garden cats and 25 huge bags of litter plus all the cleaning supplies like Clorox, Fabulosa, trash bags and laundry detergent.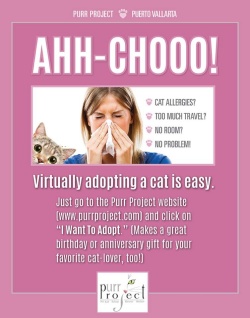 Special kitten kibble for the young ones is purchased through the vet. Medicines like vaccines and testing kits plus all the surgical supplies are another large cost.
We pay salaries to three people living at the shelter plus Social Security. Two vets have to be paid plus the cost to have them driven to the shelter. The electric bill and gas for the dryer and water heaters are expensive. Periodic replacement of things like rakes, mops, brooms, mop buckets, wheelbarrows, water hoses and sand for the outdoor litter box are necessary.
The PuRR Shelter is supported solely by private donations. You can check our website for ideas on how to give your support, including Virtual Adoptions, PayPal donation or personal check! With our 501 (c)(3) Non-Profit Status, tax exempt receipts for US Dollar donations deposited in the US are available.
If you live in Puerto Vallarta and would prefer to make a cash peso donation, contact our Shelter Administrator at donate(at)purrproject.com.
FEATURED FELINE: ISABEL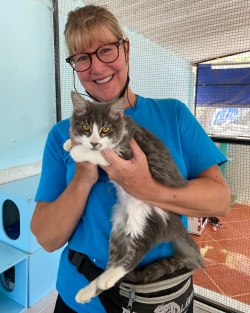 This beautiful PuRR kitten is really ready for her Furr-ever Home! Isabel has long silky fur, is about 7 months old and has been tested, vaccinated and spayed. We feel she would be a purr-fect kitty in a single feline home. If you are interested in adoption or meeting Isabel, please contact PuRR volunteer Karan Borges by email at adopt(at)purrproject.com.
GRACIAS! THANKS! MERCI! DANKE! ARIGATO!
We are very grateful to Terri & Gray Levi, Gary Phillips, Steve Stowell and Kathy & Mike Lay for recent generous donations to PURR PROJECT USA, INC. And of course to our regular donors on both PayPal and to our Delaware account: Sharon & Ken Rose, Joanne Bryla, The Charles & Carol McCullough Charitable Gift Fund, Trisha Aljoe, Pat & Sandy Glenn, Heidi Benedict, Robert Weed, Jalene Taylor, Timothy Oleno, Janice North and Elizabeth Fuerherm.
It takes a lot of work and a lot of money to operate a shelter with over 300 felines who have to be cared for 365 days of the year! We appreciate every dollar and every peso donated as we do our best to keep the shelter a safe place for its residents.
For more Kitty News & Photos, please visit PurrProject.com.
---

PuRR Project is a Non-Profit shelter in Puerto Vallarta, Mexico that provides homeless cats and kittens a recuperative stay with the ultimate goal to adopt them out to loving homes. All of our residents have been sterilized, vaccinated and are disease free. We accomplish this through our own efforts as well as collaboratively with other animal welfare organizations. Both monetary donations as well as donations of dry cat food are most welcome – and much appreciated. Donations 501(c)(3) tax-deductible in the U.S. For more information, visit PurrProject.com or send an email to info(at)purrproject.com.