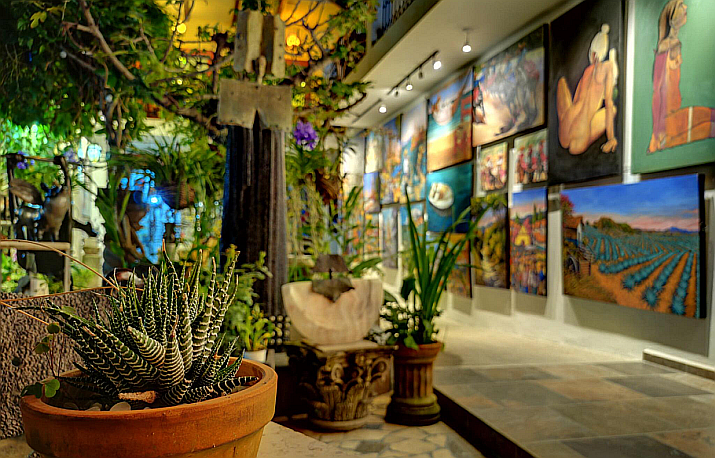 Puerto Vallarta, Jalisco, Mexico – Galleria Dante invites you to stop by on Friday, February 10th, from 6 to 9 pm to meet and talk to some of the artists – there are usually 10-12 in attendance. Puerto Vallarta's largest art gallery is receiving new works weekly from over 60 artists, so even if you have visited Galleria Dante in the past, it is always worth a second look.
They are very excited to show off some new art work that arrived in the last few weeks, including new arrivals this week from Miguel Angel Martin del Campo, Jean Jacques Hudon, and many others. Guadalajara artist Juan Carlos Navarro will be at this week's meet the artist night, so make plans now to attend.
While you are there, be sure to check out Di Vino Dante, a chic wine and tapas bar overlooking the gallery's sculpture garden that serves creative cuisine and cocktails Monday-Saturday from 1:00-10:00 pm, Happy Hour from 1:00 to 5:00 pm, and live music every Tuesday & Saturday from 7:00-9:00 pm.
Di Vino Dante celebrated their 9th Anniversary in November. In the last 2 years, they doubled the size of the restaurant; including air conditioned spaces. They also expanded their event space with the addition of a roof top garden. They've also added an elevator for easy access to the upper floors.
Be sure to stop by Galleria Dante to meet and mingle with the artists, get to know what their art is all about, and enjoy a cocktail or two on Friday, February 10 from 6-9 pm. The art gallery and restaurant share this magical space – both businesses offer an artistic experience – your senses will be awakened.

Open Mon-Fri from 10 am-5 pm, Galleria Dante is located at Basilio Badillo #269 in Puerto Vallarta's Romantic Zone. For more information, call (322) 222-2477, or send an email to info(at)galleriadante.com.