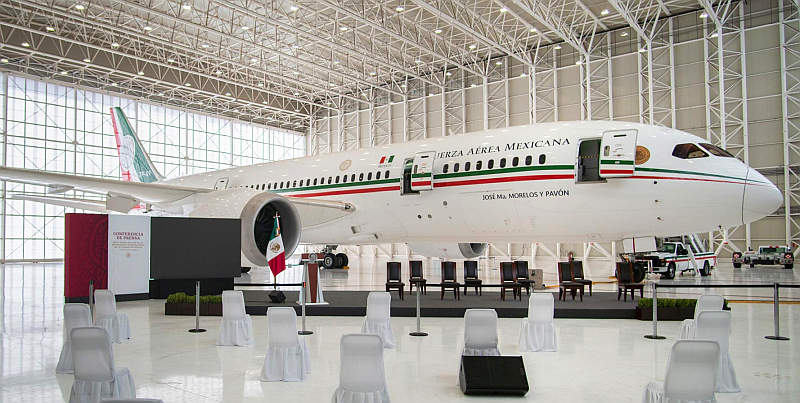 Mexico President Andres Manuel Lopez Obrador has at long last sold his predecessor's jet, though at a fraction of what he hoped for. Though the plane has relatively few miles on it, Mexico was eager to unload it because maintenance costs make it expensive to keep parked.
The government of Tajikistan paid 1.66 billion pesos (about $92 million USD) for the Boeing 787 Dreamliner, significantly less than the $130 million the government once estimated it would get for the plane. Mexico bought the jet in 2012 for over $200 million.
The announcement, made via social media late last week, appeared to finally close a political saga that the president had used repeatedly to assail the excesses of his predecessors.
The plane had been one of the president's favorite political props to illustrate a "transformation" of Mexican politics he has pledged to carry out. But the symbolism got a little murky after buyers failed to emerge. The plane was parked in California for more than a year and brought back to Mexico in 2020, then stored in a hangar as the president refused to use it for his frequent trips around the country, instead flying commercial.
The presidential jet was a thorn in the side of the current president. Since he was on a campaign to get into office, he promised to sell the plane. "Not even Obama nor Trump have it," he famously said. According to López Obrador, the presidential Dreamliner was an excess, and he promised never to use it.
"After a long time, we managed to sell the plane," López Obrador said in a video clip from inside the plane, which he had previously refused to board. "We are happy."
The proceeds of the sale will be used to build two hospitals in Mexico's poorest states, Guerrero and Oaxaca, Lopez Obrador said.
"They will be built by military engineers and will be inaugurated before my term ends," he added.