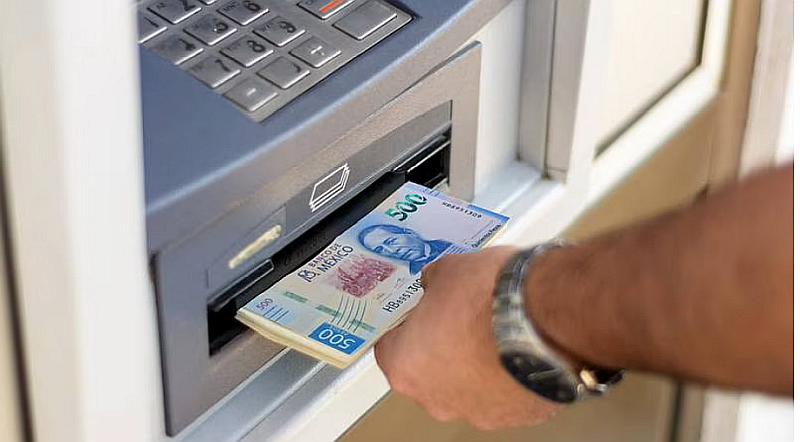 Mexico City – HSBC, Scotiabank, Inbursa, Banregio, Banca Mifel and Banco del Bajío announced the launch of Multired, an alliance that will allow customers of these banks to withdraw cash and check balances without paying commissions.
The Multired network, which will benefit more than 13.2 million customers, will incorporate 9,352 ATMs. That represents around 15.5% of the more than 60,000 ATMs in Mexico's financial system. Customers of these banks can find ATM locations for all the member banks in their own financial institution's app.
Demand for cash in Mexico keeps growing although the rate is lower than pre-pandemic times, according to a report by La Jornada Maya.
"More than 85% of transactions under 500 pesos continue to be in cash, so cash continues to circulate. As many as 49% of bank users still go to ATMs between one and five times per month to withdraw cash. But many bank customers still go to branches to check balances or withdraw cash, even though the banking system has shifted towards integrating digital technology," Pablo Elek, deputy general director of Consumer Banking at HSBC Mexico, told the newspaper.
According to Bank of Mexico data, Mexicans carry out more than 153 million interbank operations with debit or credit cards worth $463 billion pesos (US $24.3 trillion) each year. On average, the commission for withdrawing cash or checking balances at ATMs from a different bank than the user's credit or debit card, is between 27 and 30 pesos (US $1.92 – $1.60).
A report in El Financiero, said that the alliance has existed since 2021. However, it was not until January that HSBC joined.
"The six banks agree on the importance of bringing financial services closer to our customers," said Elek.
Scotiabank's Deputy General Director of Consumer Banking Fuad Juan Fernández said that the group is open to more banks joining the initiative.