Puerto Vallarta, Mexico – Retiring in Mexico is a great way to ensure you can live the retirement lifestyle you've always dreamed of. Why? Because living in Mexico is more affordable now that it's ever been.
According to a recent article by International Living, the monthly budget for a retired couple living a very comfortable lifestyle can be lower than $1,900 dollars. This includes a very comfortable two-bedroom home, all utilities, groceries, entertainment, and even help around the house.
The exchange rate from the US dollar to the Mexican peso not only makes buying property in Mexico a really affordable option, but it makes living an extremely comfortable retirement lifestyle easily achievable.
There are all kinds of amenities to be found in most of the cities in Mexico – incredible cuisine at a very low price, in many instances English speaking business owners, high quality healthcare almost always nearby, and plenty of modern entertainment including movies that are often shown in English, theaters and museums.
Another great thing about retiring in Mexico is the fact that the US and Canada are right next door. It's very affordable to book flights back for frequent visits – this is one reason why there are more Canadian and American expats living in Mexico than in any other place in the world.
Of course, living in another country will always have its challenges. Adapting to a new culture, learning a new language, and getting used to the way things work outside of Western culture is always a very demanding task – but it's just as rewarding.
MEXLend can provide home loans in Mexico from properties all over the country. We are extremely efficient in making sure that we find exactly what you're looking for in a retirement home, and we're committed to accompanying you through the purchasing process, including securing home loans, Escrow services, and insurance.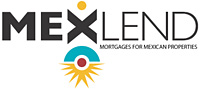 Are you looking to purchase a home, vacation or investment property in Mexico? To discover which one of the many mortgage loan options that MEXLend offers is right for you, visit MexLend.com or MexLend.com.mx, call (322) 222-7377 in Vallarta, toll-free at 1.800.3.Mi.Casa in Mexico or (917) 779-9061 from the US or Canada.


To learn more about MEXLend, click HERE.