Puerto Vallarta, Mexico – When it comes to owning assets in a foreign country, it is always very comforting to know that you have protection if something goes wrong. Having insurance, in Mexico or anywhere in the world, is an important part of being a homeowner.
MEXLend, Inc. is a Mexican mortgage brokerage based in Puerto Vallarta that represents a variety of lenders offering different loan options for foreign buyers looking to purchase vacation or investment property in cities throughout Mexico. And now, they can also help homeowners secure their assets, businesses and all other aspects of life in Mexico.
The experts at MEXLend will work to help you find the best insurance plans for your home, its contents, and your belongings, including cars and boats. They can also help you find the life and health insurance plans that are right for you and assist in the acquisition of commercial policies for businesses such as residential developments, condos, hotels, etc.
As more and more people are investing and retiring in Mexico, protecting those investments is critical. You can depend on the solid and trust name of MEXLend.
MEXLend has been offering homeowner's insurance to their clients in Mexico for fifteen years. But now they've expanded their services to provide full coverage for a complete life in Mexico. Contact one of their experts to learn more about the insurance coverage available to you in Mexico.
Spending time in Mexico gives you the exclusive opportunity to witness and experience the deep inherent culture and history that makes this country so great. Living in Mexico can be a dream come true for anyone who wants to give it a shot, and MEXLend is here to help. As the most experienced residential mortgage broker in Mexico, MEXLend will accompany you through the process of buying a home, including securing home loans and Escrow services anywhere in Mexico.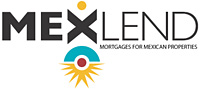 Are you looking to purchase vacation or investment property in Mexico? To discover which one of the many mortgage loan options that MEXLend offers is right for you, visit MexLend.com or MexLend.com.mx, call (322) 222-7377 in Vallarta, toll-free at 1.800.3.Mi.Casa in Mexico or (917) 779-9061 from the US or Canada.


To learn more about MEXlend, click HERE.