Puerto Vallarta, Mexico – Many people are focused on creating goals at the beginning of the New Year. If you're thinking about taking the plunge and moving to Mexico, there are always going to be various pros and cons to take into consideration. However, one of the important pros about living in Mexico is the undeniable improvement in quality of life.
There are numerous reasons why buying a home in Mexico can improve your quality of life. Allow us to share a few of these reasons with you:
The cost of living is lower. The cost of housing, food, utilities and entertainment is often much lower in comparison to Mexico's northern neighbors. It is more than possible to live very comfortably on a pension or retirement fund.
The quality of the food. There is a reason why Mexican food is a favorite cuisine worldwide. Besides the extraordinary culinary talent found in the country, the ingredients are also known for being very fresh. After all, a lot of the produce found in the USA or Canada is imported from Mexico.
Affordable healthcare. Mexico is home to astounding medical professionals and private hospitals. The cost of healthcare is often considerably lower than US rates. Particularly in bigger cities like Guadalajara, where you can find fantastic doctors and dentist that meet or exceed northern standards.
Get in touch with us if you'd like some help buying a home in Mexico. Living in Mexico can be a dream come true for anyone who wants to give it a shot, and we're here to help.
MEXLend is the most experienced residential mortgage broker in Mexico. We accompany you through the process of buying a home, including securing home loans and Escrow services, anywhere in Mexico.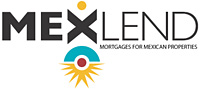 Are you looking to purchase vacation or investment property in Mexico? To discover which one of the many mortgage loan options that MEXLend offers is right for you, visit MexLend.com or MexLend.com.mx, call (322) 222-7377 in Vallarta, toll-free at 1.800.3.Mi.Casa in Mexico or (917) 779-9061 from the US or Canada.


To learn more about MEXlend, click HERE.