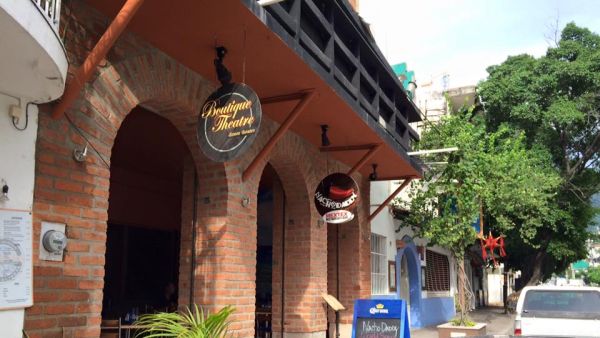 Puerto Vallarta, Mexico – As we head into the holiday season, The Boutique Theater and Nacho Daddy invite everyone to come out and have some fun! With new shows, movies, TED Talks and more, along with the best bands in Puerto Vallarta playing most every night, there's something fun for everyone!
Comedy Opens This Weekend at The Boutique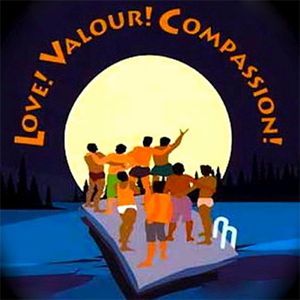 Opening December 6 at The Boutique Community Theatre is a house-party comedy, Love! Valour! Compassion! Directed by Ralph Hyman, the show is about eight homosexual men in the time of AIDS. This show contains mature subject matter, and is recommended for adult audiences.
Love! Valour! Compassion! is the kind of solid, serious, non-musical comedy that is rarely produced in Puerto Vallarta. It's about eight mostly upper-middle class homosexual men in the time of AIDS. Over three successive holiday weekends in one summer, they gather to relax, celebrate their friendship, and consider their lives while making accommodations to survive.
Hyman, artistic director of The Boutique, explained why he chose the show. "I know the theater community of Puerto Vallarta is used to comedy, slapstick, and forget-your-troubles theatrical productions. On occasion, I think we need to return to a time when the suffering was overwhelming for the gay community, when every day, we lost someone who was dear to us."
Entertaining as it is moving, the show's one-liners are hysterical and its genuine pathos is only slightly tinged with sentimentality. Often talking directly to the audience, the play's characters often comment on what the other characters are saying to the audience. They feed us facts they could not possibly know at the time they reveal them, as they see into the future to illuminate the past and to give the frequently rocky present added poignancy. The result is a theatrical experience of unusual richness, about characters of unexpected dimension. The cast includes Thomas Carroll, Frank Harrison, Roger Vickery, Rick Bodensteiner, Ron Untener, Travis Marin Lemus, and Francisco Flores. Performances will be at 6:00 pm on Thursdays, Fridays, and Saturdays through December 22.
Mikki Prost in "Patsy Cline's Jukebox"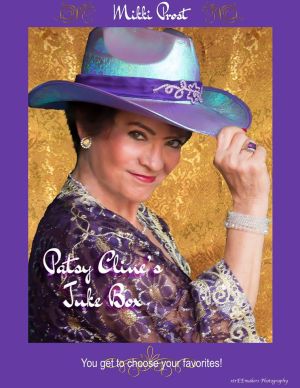 Popular tribute artist Mikki Prost is back, with her show "Patsy Cline's Jukebox." It will be performed at 6:00 pm on Tuesdays. Arrive early to be seated for dinner at 5:00 pm. Prost has created an engaging, interactive show. On the tables will be a list of dozens of Patsy Cline tunes, and the audience gets to choose which numbers are performed. No two shows are alike.
Paco Ojeda's Dinner and a Movie Series
Local musicologist and writer Paco Ojeda's "Dinner and a Movie" series continues on December 10 th with the film, Pal Joey. Grab your seat in the air-conditioned theater, and be in place for Ojeda's 15-minute introduction and discussion of each evening's feature. Doors open at 4:30 pm, and the presentation at 5:00 pm.
TED-Type Talk Tuesdays Continue
TED-Type Talks continue to educate and inspire, every Tuesday, from 11:00 am to 1:00 pm. "Intelligent Movement Forever" will be presented by Via Anderson on December 11th. Each session includes opportunities for the audience to ask questions, and join in the discussions. Food and drinks from the extensive – and reasonably priced! – menu at Nacho Daddy are available to order. Tickets cost $250 pesos each. To suggest a speaker, email catherinecalderapv(at)gmail.com.
Hannah Brady – "A Dove on the Beach"
Dynamic vocalist Hannah Brady is shaking things up with rock, funk, and soul. "A Dove on the Beach" honors such legends as The Jackson 5, Stevie Wonder, Etta James, and Sting, with the spice of Top 40. Crafted for both English and Spanish-speaking audiences, the show features Baltazar Arreola on guitar, Beto Bullizio on drums, and Andrés Piedra at the piano. Hannah Brady has sung all over the world, from New York City to Hong Kong. She was the original lead vocalist in "Pixels" aboard Royal Caribbean's Ovation of the Seas. Hannah performs on Sunday nights at 8:30 pm. Tickets are availabe for $500 pesos at Nacho Daddy.
Frank Sinatra Tribute Concert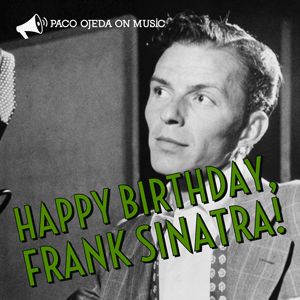 "Happy Birthday, Frank Sinatra! – A Tribute Concert" is planned for 9:00 pm on Saturday, December 8, hosted by Paco Ojeda. 'Come Fly With Us' as we celebrate in this one-time-only show, with special guest artists Renee Armand and Alain Perreault on vocals, and Jean-Guy Comeau on voice and piano.
A "Princesas Desesperadas" Christmas
Perro Bravo Productions returns to Puerto Vallarta this season with the Spanish adapted version of Tomas Ustusastegui's comedy Princesas Desesperadas – The Christmas Special. The director is Ramiro Daniel, and with actors Juan Pablo Hernandez, Juan Carlos Ramirez, Cesar Trujillo, and Cesar Bravo, "Princesas Desesperadas" is a fast-paced comedy that tells the story of four Disney princesses who get together 15 years after their "happily ever after."
The sharp Vaudeville-esque comedy quickly puts the audience in a voyeuristic situation, as the characters, one by one, become unraveled as they peel off the tragedy of their lives piece by piece. They draw the spectators into a very private conversation among women, a conversation not meant to be heard by anyone else.
"Princesas Desesperadas" – in Spanish – began in Puerto Vallarta in April 2014, and has played before more than 3,000 people. In June 2018, it was awarded the public prize for best play in the theatre festival of Lagos de Moreno, Jalisco. "Princesas Desesperadas – the Christmas Special" will take The Boutique Theater stage on December 15, 29 and 30th at 8:30 pm.

The Boutique Theater is located upstairs at Nacho Daddy Mexico, the premier sports bar and restaurant in Puerto Vallarta. Open daily from 11 am to 12 am for lunch, dinner, live music (with no cover charge!) and lots of fun, this popular south side hangout is located at Basilio Badillo #287, only two blocks off the beach in the heart of the Romantic Zone. Credit cards accepted. For more information, visit NachoDaddyPV.com or become a fan on their Facebook Page for promotions, daily specials and more.

Click HERE to learn more about Nacho Daddy Mexico Restaurant & Sports Bar.