Puerto Vallarta, Jalisco, Mexico – Construction of the Federation Bridge, which will connect Puerto Vallarta and Bahía de Banderas, will get under way soon and will be built entirely with federal resources, Nayarit Governor Miguel Ángel Navarro Quintero assured the region's business community last week.
The president of the Puerto Vallarta and Bahía de Banderas Association of Entrepreneurs (AEBBA), Jorge Villanueva Hernández, described this news as "historic", since they have been fighting for this project for 10 years.
The AEBBA has been one of the main business organizations promoting the construction of the Federation Bridge, which is why Villanueva Hernández was happy to share the news that the Governor of Nayarit himself confirmed that this important work will soon be a reality.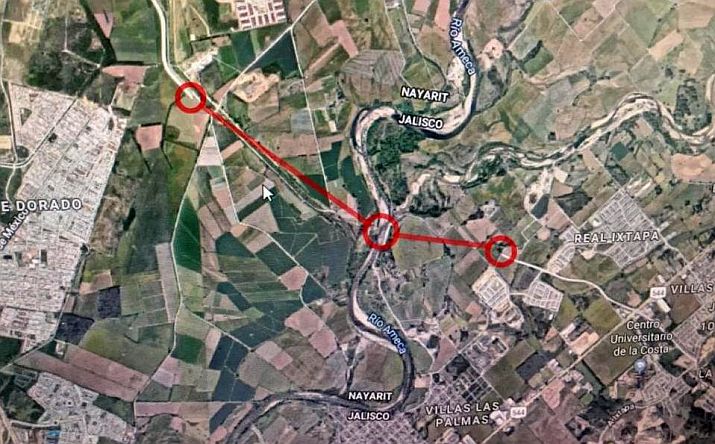 The business leader said that Governor Navarro Quintero also confirmed that the Federation Bridge, which will connect the Ixtapa delegation in Jalisco with the town of San Vicente in Nayarit, is going to be built with federal resources covering 100 percent of the estimated 800-860 million pesos investment.
Through a phone call, "he tacitly told me that the commitment he made with the business community of Puerto Vallarta and Bahía de Banderas to make the Federation Bridge a reality is already a fact. That it will be done with federal money, and an external private company will be hired to do the work. That it will be soon because the authorization is already there. This makes us very happy," Villanueva Hernández said.
For the leader of the AEBBA, this news of the Federation Bridge has been the most important that the business sector has received in a decade, "because currently the traffic from Bucerías to the entrance of Puerto Vallarta on the existing bridge over the Ameca River is very concentrated. When the new bridge is ready, we estimate that 52% of that traffic will be reduced," he explained.
There is still no start date slated for the work, but it would take no more than 12 months to complete, so motorists should expect this bridge to be completed by 2024.
Sources: Quadratin Jalisco • Vallarta Opina