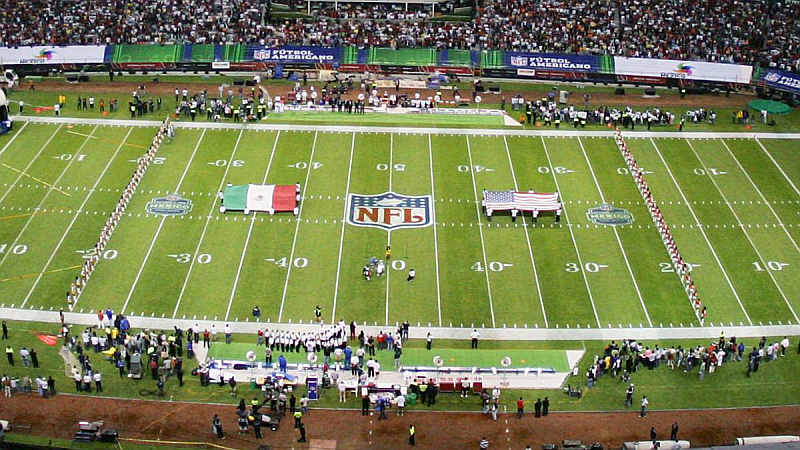 The NFL International Series will return to Mexico City on November 21 with Monday Night Football. Estadio Azteca will host NFC West rivals San Francisco 49ers and Arizona Cardinals in a rematch of the NFL's first regular-season game played outside the United States.
This will be the second time that the 49ers played the Cardinals in Mexico City. The first time was back in October of 2005, and was the first NFL regular season game to ever be played outside of the United States. 103,467 fans, the largest crowd to attend a regular-season game in NFL history, packed the stadium and watched the Cardinals come away with a 31-14 victory.
And now, they will once again face off at Estadio Azteca, one of the most iconic soccer stadiums in the world. The massive multi-purpose stadium has an official capacity of 87,523. Higher than any other NFL stadium, Estadio Azteca sits at about 7,200 feet above sea level.
The November 21 49ers-Cardinals game in Mexico City marks the NFL's fifth and final international game this season. Through its International Series, the league is focused on growing the sport around the globe, building the league's fan base and developing international talent.
Mexico has the largest NFL fan base outside of the United States, and American football has become the country's second most popular sport.
Before kickoff, 49ers fans in Mexico City will have plenty of opportunities to get pumped for the action. The team released a complete list of events happening in the city before and during the Monday Night Football game.
"The 49ers are fortunate to be one of the most popular NFL teams in Mexico. We appreciate the scores of Faithful that will support us not only in Estadio Azteca on November 21st, but throughout Mexico all week long," said Alex Chang, 49ers Chief Marketing Officer. "Our events surrounding the International Game, along with our ongoing marketing efforts, will promote the game of American football throughout Mexico, invigorate current 49ers fans, and forge new relationships with the next generation of Mexican Faithful."