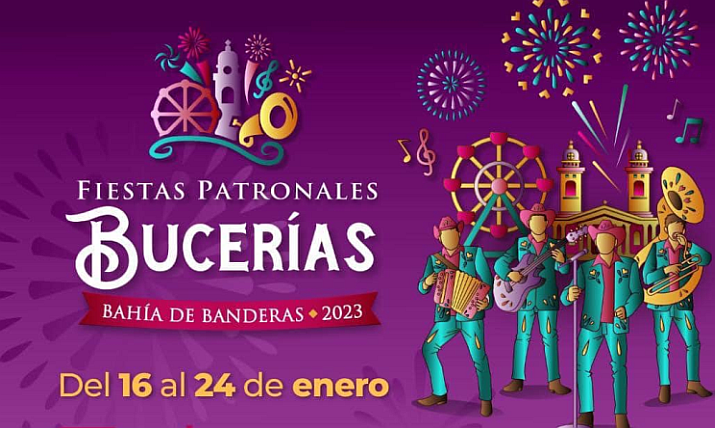 Riviera Nayarit, Mexico – Every year in January, in the little town of Bucerías, Nayarit, there is a festival celebrating Our Lady of Peace (La Virgen de la Paz), who is the patron of the local Catholic church. The fiesta lasts for nine days, during which the streets fill up with vendors selling everything under the sun, as well as scores of carnival rides.
This year's celebration began on January 16th and continues through the 24th. Every day there are masses held for the faithful with various local organizations leading religious processions to the church.
There is also nightly entertainment, vibrant fireworks displays and, of course, the crowning of a new Queen of the Patron Saint Festival. All of these activities take place in the town's main plaza. Fittingly, a fine variety of the beautifully made Nayarit arts and crafts are also on display, accompanied by the local artisans themselves.
Another aspect of the festivities is the wide variety of sports, artistic and cultural events, which are an important part of community development in the Riviera Nayarit. Noteworthy is "The Bull" – a young man with a wooden rack that resembles a bull's head, full of rockets, which runs through the crowd shooting off the fireworks in all directions.
But the most symbolic act of the tradition is the Maritime Pilgrimage with the Peace Torch, which is escorted by colorfully decorated boats on the morning of January 24th. Fishermen from all over the southern coast of Nayarit leave from La Cruz de Huanacaxtle and sail across Banderas Bay in a formation in the shape of a cross. Once they arrive in Bucerías, the fishermen attend mass in the Church of Our Lady of Peace, where they pray to the Virgin for a year of good fishing, tourism, health and prosperity for the area's families.
The festival culminates that evening with the lighting of the Castillo (Castle) – a three story tower filled with fireworks, making this an event not to be missed.
The bazaar, the dances, the festivities and the general rejoicing that takes over Bucerías during the annual Our Lady of Peace Patron Saint Festival results in an increase in tourism which, together with the income from sales, generates extra revenue for the locals, who welcome visitors with open arms.
For more information and a schedule of entertainment and events, visit the Bucerías, Nayarit Facebook page.