Puerto Vallarta, México – Uniquely Mexican. Definitely Jalisciense. The violins, trumpets and guitars of Mariachi reign as the music of traditional Mexico.
A local Vallarta leader in live musical entertainment recently said, "We should always have a Mariachi show available to the public in Vallarta." We at No Way José! could not agree more!
Local favorites Luis Villanueva and El Mariachi Alegría have so delighted our family of friends in their recent performances, they are being requested to return to Tu Casa en Vallarta by popular demand.
Mark your calendars for one – or all! – of these three upcoming dates so you won't miss the opportunity to enjoy Dinner and a Show on the NWJ! open-air Terrace and appreciate the joyful sound of Mariachi.
• Sunday, January 17
• Sunday, February 7
• Sunday, February 28
Visit nowayjosemx.com to make your dinner reservation. The $500 pesos ticket price will be added to your dinner check. (Dinner reservation and consumption required.)
These shows are gaining in popularity and we strictly adhere to our 50% capacity rule on the Terrace, so do not wait to reserve your space!
Feel like you're in Mexico when you're on the Terrace of No Way José!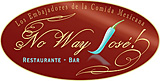 Open for dinner 7 nights a week from 4:00 to 11:00 pm, No Way José! is located on the south side of Puerto Vallarta at 5 de Febrero 260, (just over the Vallarta street bridge on your left heading south from the Malecón). Reservations are strongly recommended and can be made by emailing Reservations(at)NoWayJoseMx.com. For more information, call 322-223-2853, visit NoWayJoseMx.com, or join us on Facebook for real-time updates and special offers.


Click HERE to learn more about No Way José!