Puerto Vallarta, Jalisco, Mexico – If you love art, music, wine and cocktails, Puerto Vallarta's Oficina de Proyectos Culturales is the place to be on Thursday evenings this Summer as they present the 2023 edition of Noches de Verano en OPC / 'Summer Nights at OPC'.
At 6:30 pm every Thursday through August 31, this series of cultural evenings will present a diverse program of art, poetry, music, community, and amazing mixology. And the best part? Entrance is free!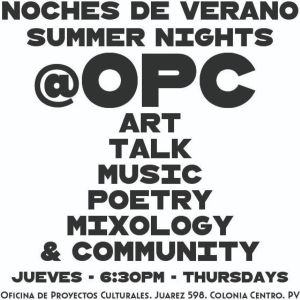 If you didn't attend last night's kick-off, you missed a musical performance by Mauricio Cervera, accompanied by selection of wines and cocktails from his Granvas Wine Bar, in a "Tropical Gaze" evening that kept everyone entertained. And, since Mau donated proceeds from wine sales to OPC's educational and exhibition programming, it was all for a good cause!
This Summer, Noches de Verano en OPC will feature great artists, poets, and mixologists. So make plans now to join in on the fun every Thursday through August 31 – and bring a friend – or two!
PROGRAM
July 20
La Ultima Palabra y Amores Prohibidos / The Last Word & Forbidden Lives
Come enjoy cocktails by Jonmarc Ross, and poetry readings by poets Blanca Athié, Cecilia Fernández, Jorge Ayala, Mariana Amarillo, Nicté Escalante, Sayuri Sánchez and Ulises Sauri.
July 27
Monotipos y Margaritas / Monoprints & Margaritas
Jonathon Poe will teach you the art of monoprinting – and everyone will leave with their own print! Jonmarc Ross will once again be the evening's mixologist – so come join the fun!
August 3
Rock Hudson: All That Heaven Allowed
OPC is honored to work with HBO Max to present "Rock Hudson: All That Heaven Allowed". (English with Spanish subtitles.) Please join us to watch this intriguing intimate portrait of Rock Hudson, including his days here in Puerto Vallarta, all while sipping a "Last Sunset" cocktail made by mixologist Jonmarc Ross.
August 10
Habitar El Arca / Inhabiting th Ark
Mexican poets Francoise Roy and Carmen Villoro will share some of their great poetic work, complemented by cocktails made with Tequila 1800.
August 17
Váivenes de la Resistencia / Swings of Resistance
Curators Aldo Álvarez Tostado Cuaco Navarro, Laura Bordes, Rodrigo Santoscoy and Mario Wando will speak about projects that promote diversity and inclusion in cultural spaces. Moderated by Óscar Morán and Sayuro Sánchez, cocktails sponsored by Tequila 1800.
August 24
La Última y Nos Vamos / Last Call
Closing event for the Queer/Cuir exhibition. Special walk-through with curators Óscar Morán and Sayuri Sánchez, cocktails sponsored by Tequila 1800.
The program for the last Thursday of August is still in the works, but you can be sure that it will be a fun-filled evening that you won't want to miss. Stay tuned for more details.
OPC would like to thank Tequila 1800 for sponsoring this year's summer program.

Located at Juarez #598 at the corner of Aldama in downtown Puerto Vallarta, the Oficina de Proyectos Culturales (Office for Cultural Projects) (OPC) is an independent and non-profit organization dedicated to the promotion of Contemporary Art through exhibitions, round tables, public art initiatives and educational services programs. It was created with the aim of contributing to the reflection on the contemporary sociocultural and artistic environment, with the vocation to share with the inhabitants and visitors of Puerto Vallarta. OPC works with different creators such as artists, architects, curators, academics and writers who contribute to the construction of our notion of the city and contribute to the cultural panorama linked to Puerto Vallarta but of global reach. For more information visit their website or Facebook page.