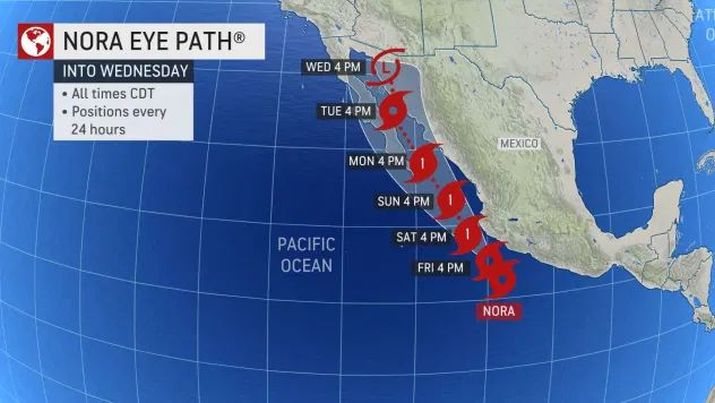 Puerto Vallarta, Mexico – A strengthening tropical storm nearing the southwestern coast of Mexico is threatening to become the next hurricane in the eastern Pacific, and AccuWeather meteorologists say it may bring significant impacts near its track.
Tropical Storm Nora is centered several hundred miles to the southwest of Mexico, but it is expected to bring bouts of heavy rainfall and strong winds into early next week as it strengthens and nears the coastline.
There is a chance that Nora will make landfall along the Baja Peninsula of Mexico Sunday night or early Monday. However, regardless of whether Nora makes landfall or stays just offshore, that region of Mexico as well as part of the mainland will feel the effects.
"Nora can produce widespread heavy rain along the southwestern coast of Mexico into Sunday," said AccuWeather Senior Meteorologist Rob Miller.
The storm had maximum sustained winds of 50 mph and was moving to the northwest at 12 mph as of 1:00 pm CDT Friday. Nora is expected to strengthen into a hurricane early this weekend once maximum sustained winds reach 74 mph (119 km/h).
While landfall is not currently expected along southwest mainland Mexico, Nora will be close enough to bring heavy, potentially flooding rainfall from southwestern Oaxaca to coastal Jalisco through Sunday. Given the mountainous terrain across the region, mudslides will be possible where the heaviest of the rain falls.
The heaviest of the rain will fall across southwestern Oaxaca and coastal Guerrero from Thursday night into Saturday, while heavy rain is expected in western Michoacan, Colima and Jalisco from later Friday into Sunday.
"The track of Nora is expected to remain just far enough offshore to avoid landfall in southwest Mexico, but there can be locally damaging wind gusts along the section of coastline from western Guerrero to Jalisco," added Miller.
Coastal Jalisco will be at the greatest risk for damaging wind gusts as the storm makes its closest pass to land as a Category 1 hurricane on the Saffir-Simpson Hurricane Wind Scale with maximum sustained winds 74-95 mph (119-153 km/h).
Wind gusts in this area could reach 60-80 mph (95-130 km/h) which can lead to downed trees, power outages and some structural damage to weaker buildings.
The risk to lives and property is expected to increase as the storm track near the southern tip of Baja California Sur from Sunday night into Monday.
For more information click HERE. For storm updates, keep checking AccuWeather.com. Click HERE to download the free AccuWeather App.