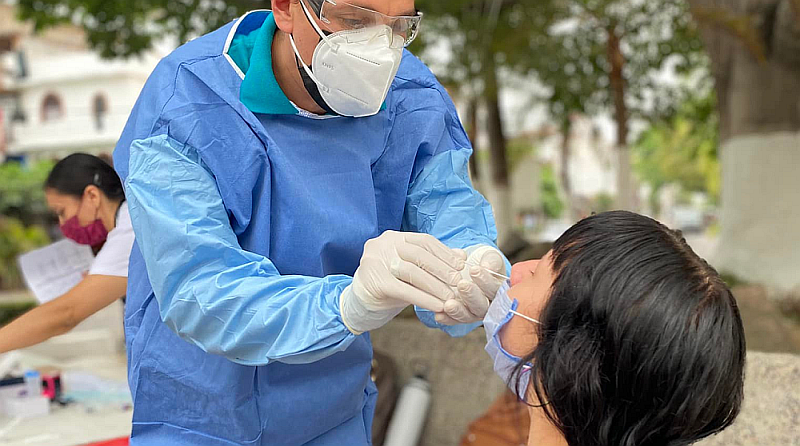 Puerto Vallarta, Mexico – The Covid-19 pandemic is not over and proof of this is that in the last week, 3 schools and government buildings in Puerto Vallarta had confirmed cases, which led to additional measures being taken.
For example, the use of face masks in government buildings is again mandatory because in recent weeks, several workers have been infected.
Meanwhile, 3 educational establishments, whose locations were not disclosed, also presented new cases in both teachers and students.
It should be noted that the Health Board has not yet announced any additional measures after the last session, but 3 universities, including the University of Guadalajara, have already announced that the wearing of face masks is once again mandatory due to this new wave of infections.
Jalisco continues with a low percentage in terms of occupied Covid beds, however, the authorities recommend not relaxing the health measures, since the virus is still among us.
Further proof of this was evidenced by the SARS-CoV-2 detection tests that were carried out daily in the module that was installed in Puerto Vallarta's Parque Hidalgo last week. Of the average 80 tests administered each day, between 20 and 30 tested positive for Covid-19.
This was stated by the director of the Eighth Health Region, Jaime Álvarez Zayas, when confirming the increase in the percentage of positive cases in Puerto Vallarta. However, he evidenced that although there are more cases, hospitalizations due to Covid-19 in the city remain at zero so far.
The doctor stressed that the new cases present mild symptoms, which is due to progress in vaccination against the coronavirus, emphasizing that Covid-19 cases will continue to be reported because the pandemic is not over.
In addition, he indicated that as the pandemic remains active, the risks of contagion continue, especially when basic preventive measures are relaxed, because although the use of face masks is no longer mandatory, their continued use is highly recommended, especially for people with some comorbidity.
He said that these new infections are happening precisely because of the relaxation of preventive measures which, in addition to the wearing of face masks, include the use of antibacterial gel and frequent hand washing.
Sources: Vallarta Independiente • Contralínea