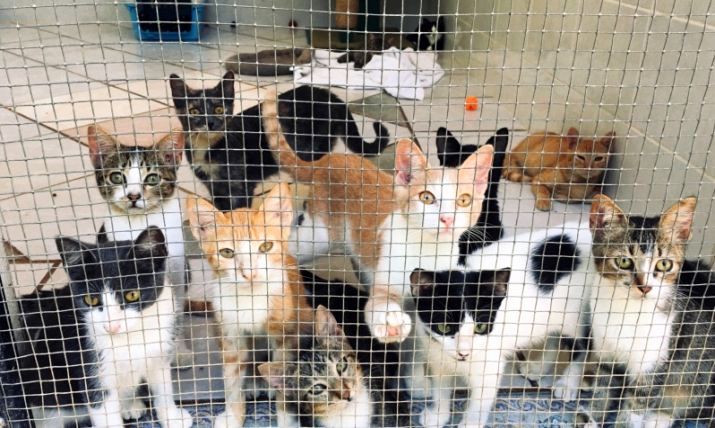 Puerto Vallarta, Mexico – The latest news from PuRR Project, a non-profit, no-kill feline shelter located just north of Puerto Vallarta, Mexico, that provides homeless cats and kittens a recuperative stay with the ultimate goal of adopting them out to loving homes sterilized, vaccinated and disease free.
Shelter Update
As we sent out last month's newsletter, Hurricane Nora had just passed over leaving lots of destruction in the area, including the loss of the bridge over the Rio Cuale in Old Town Puerto Vallarta and two deaths. At the shelter there was no more major damage except for the roof of the older Rain Shelter which blew off.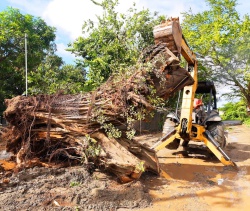 We've had a very WET September with over 45 inches of rain and another flood at the shelter. The good news is that after over two weeks with no power, we finally got the new transformer, poles and power lines installed and hooked up to CFE, so we have electricity and water!
Then we were able to get a huge machine in to remove the stump and roots of the tree that fell in August so we could rebuild the fence and repair the damage to the Nursery roof. It's very difficult to determine if we lost cats during the period when the fence was down, but most seem to want to stay close to their food bowls.
Our Vet: Dra. Eva Torres Campos
We think Dra. Eva is the greatest! She loves felines and can name almost every one of the many cats & kittens in the PuRR shelter! She is a respected full time veterinarian at Veterinaria Sabuesos in Puerto Vallarta, so we are grateful that she can take the time to travel all the way out to the shelter twice a week to tend to the medical needs of our cats and kittens.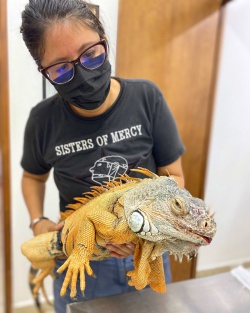 Along with vet Dr. Alberto and biologist Carolina, she has a non-profit for rescue and rehabilitation of wildlife (CALEV). She is also an expert in marine reptiles and is the go-to vet when a crocodile needs medical help. Her backyard or bathtub are often filled with recovering injured iguanas, river otters, barn owls, opossums, baby squirrels, ducks or baby crocs!
Last month, tourists watched in awe as she raced into the surf to grab a huge brown pelican that had been reported to have a fish hook stuck in it's bill. Back on shore she was able to quickly cut away the fishing line and hook and return the uninjured pelican back to the water.
Another report of an endangered green iguana that suffered injuries to his mouth after a fall sent Eva off an another rescue mission! The huge male iguana was taken to her clinic for treatment and upon recovery was released at the PuRR shelter where he quickly found a giant tree to live in. She is also currently caring for Zeus (the shelter dog) and his physical therapy at her home until he can safely return to live at the PuRR shelter. Thanks, Dra. Eva!
Zeus The Shelter Dog
Last month we introduced you to our rescue Doberman, Zeus. Shortly after that, he escaped through the gap in the fence and was hit by a car. Jose contacted Dra. Eva who rushed him to town for X-rays and determined he had a break in his front leg that required a complicated surgery. He spent almost two weeks at the Sabueso's clinic (where he was a very popular fellow!) and is now recovering and getting physical therapy at Eva's home. He should be fine and his "hand shaking" paw back in action very soon.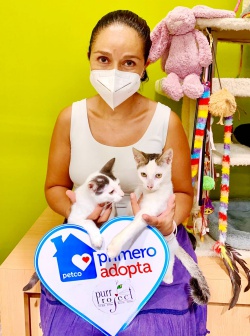 The Purr Nursery
At last count we still had 73 kittens in the nursery casitas at the shelter. Many of the older ones have been released to live in the yard as we just don't have enough indoor space. During the last year and a half, we have depended on the Petco Saturday and Sunday Adoption Center for the majority of our adoptions. We are grateful for every adoption there, so please consider checking PetCo when you are ready to choose your next feline companion.
Gracias! Thanks! Merci! Danke! Arigato!
As you can imagine, the expenses last month were enormous so we were very thankful for the many donations we received following the newsletter. Our gratitude goes to everyone who has been so generous: Fred Marshall, Gary Phillips, Carol & Charlie McCullough, Steve Stowall, Janice North, Derek & Jennifer Frankforth, Cheryl Greene, Malka Sekey, Trisha Aljoe, Mike & Bobbie Ireland, Danette Parker, Mary & Bob Fitzgerald, Thomas Bluer, Sharon & Ken Rose, Marilyn Marshman, Michelle Michasa Kim, Heidi Benedict, Jalene Taylor, Sandy & Pat Glenn and Elizabeth Fuerherm.
You can also support PuRR Project every time you shop with AmazonSmile! Enter: PURR PROJECT USA, Milton DE and a percentage of all your purchases will be donated to PuRR Project. You can find all the information on how to donate on our website.
For more Kitty News & Photos, please visit PurrProject.com.
---

PuRR Project is a Non-Profit shelter in Puerto Vallarta, Mexico that provides homeless cats and kittens a recuperative stay with the ultimate goal to adopt them out to loving homes. All of our residents have been sterilized, vaccinated and are disease free. We accomplish this through our own efforts as well as collaboratively with other animal welfare organizations. Both monetary donations as well as donations of dry cat food are most welcome – and much appreciated. Donations 501(c)(3) tax-deductible in the U.S. For more information, visit PurrProject.com or send an email to info(at)purrproject.com.