Puerto Vallarta, Mexico – PEACEAnimals is raising funds for our free mobile spay/neuter clinic program via an online auction at 32auctions.com. The auction opens for bidding at 9:00 am central time on February 5 and will end at 5:00 pm central time on February 13, 2023.
From art to gift certificates for hotels, restaurants, tours and salon treatments, to pet care, a diverse assortment of more than 40 items will be auctioned off. Photos and descriptions of the items up for bid can be seen on the auction website. Items will continue to be added until the last minute, so be sure to check back often to see what's new.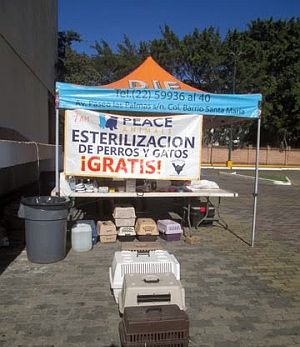 When bidding, please remember that this is for a charity, so please don't worry about bidding more than the posted value. It's nice to get a good deal but, hopefully, it also feels good to know you are helping PEACEAnimals sterilize more animals.
In 2022, PEACEAnimals sterilized 7,505 dogs and cats and treated them for fleas, ticks, parasites and mange, if present. All of these services are free of charge.
The clinics matter. They're important. They have visible impact in the areas where they operate. Please help. If you feel that free spay/neuter clinics in Puerto Vallarta have merit, but don't want to participate in the online auction, please consider donating to the cause.
Founded in 2013, PEACEAnimals is a free mobile spay/neuter program operating primarily in the greater Banderas Bay area of Puerto Vallarta, Mexico. It is a registered Mexican AC (non profit) and has 501 (c) (3) status in the U.S. under the umbrella of Banderas Bay Charities, Inc., which offers tax-deductible receipts in the US, Canada, and Mexico.
For more information, or to make a much-needed donation, please visit peaceanimals.org.