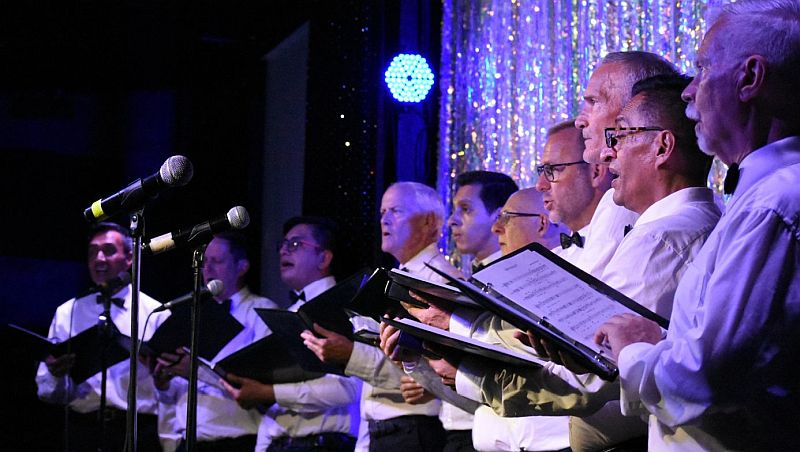 Puerto Vallarta, Mexico – The enchanting notes of choral music are set to echo through the streets of PV as the Puerto Vallarta Gay Men's Chorus (PVGMC) opens its doors for a special musical experience that's not to be missed. Music lovers and community members, mark your calendars for a unique opportunity to be part of an exceptional event!
Event Details:
What: Open Rehearsal of the Puerto Vallarta Gay Men's Chorus
When: Tuesday, August 22nd at 7:00 PM
Where: International Friendship Club (above the HSBC Bank)
With its doors wide open, PVGMC invites everyone, regardless of musical background, to join them in celebrating the power of music. Whether you're an experienced singer or someone who simply appreciates the joy of harmonious melodies, this event welcomes all to unite in the universal language of song.
Key Highlights:
Inclusivity at its Best: The open rehearsal is a warm invitation to former members, current members, and newcomers who are passionate about creating music and forming connections within the community.
No Strings Attached: A shared love for music has no price tag, and neither does this event. Attendees can experience the magic without any cost involved.
Building Bonds: This open rehearsal not only resonates with the harmony of voices but also with the camaraderie it fosters. Come prepared to share stories, make new friends, and celebrate the shared passion for singing.
A Symphony of Taste and Tales: An opportunity to unwind and connect, the event will include moments for enjoying delicious snacks and engaging conversations. It's the perfect setting to exchange choir experiences and cherished memories.
Get ready to infuse your evening with the essence of music and community spirit. With hearts tuned to the rhythm of togetherness, the PVGMC team looks forward to welcoming you and creating harmonious memories that will linger long after the music stops.
Extend the invitation to your circle of friends and family – this is a chance to revel in the magic of music and create memories that resonate with every note. For further inquiries and details, feel free to contact PVGMC at pvmenschorus(at)gmail.com or call 322-306-7393.
About the Puerto Vallarta Gay Men's Chorus:
The PVGMC brings you the talents of gay men from Mexico, the United States, Canada and around the world who aim to build bridges of understanding, acceptance and love through song. They are warmly embraced by the local Mexican and Ex-Pat community, as well as tourists from many cultures.