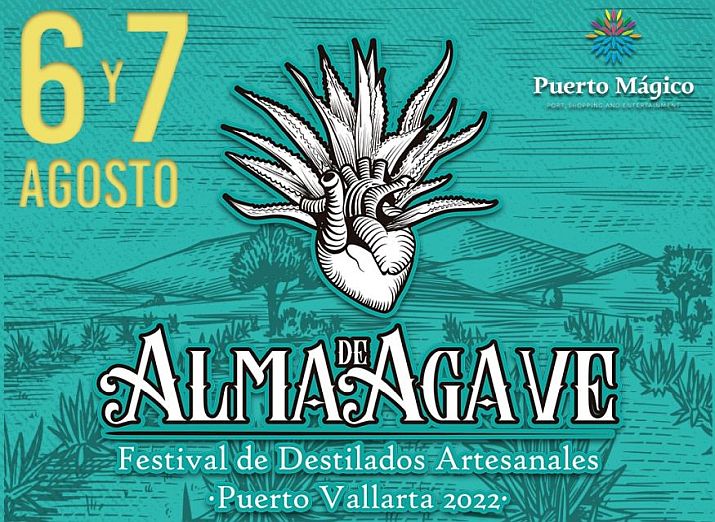 Puerto Vallarta, Jalisco, Mexico – Make plans now to come out to Puerto Mágico on August 6th and 7th for the first Alma de Agave Festival, an event that brings together more than 20 brands and producers of artisanal distillates produced from agave in its different varieties, including Raicilla, Mezcal, Tequila, Pulque, Sotol and other specialties.
This event brings together producers from the different regions of Mexico that create agave distillates with denomination of origin, a designation that protects geographical status and refers to products specific to a particular area or town, and the traditional methods used to produce them. For the consumer, it guarantees a constant level of quality and specific characteristics.
Tequila is without a doubt the most famous #agave distillate in all of Mexico, and on this occasion you can learn about the artisanal processes that some Jalisco distilleries still use, thus giving a superior quality to their products and marking the great difference between traditional and commercial brands.
Come to Puerto Mágico from 2-10 pm on August 6 and 7 and learn more about all the culture behind this popular drink and other distillates produced from agave.
To enhance the experience, visitors can enjoy incredible fusions of flavors created by renowned bartenders and mixologists from Puerto Vallarta and the region.
Boasting a fully covered area to keep you out of the blazing sun, and all the facilities needed to spend a great day in the company of your family and friends, Puerto Mágico is the perfect place to celebrate the first Alma de Agave Festival.
Save the date(s) and come be part of this experience at Puerto Mágico. Entrance is free!