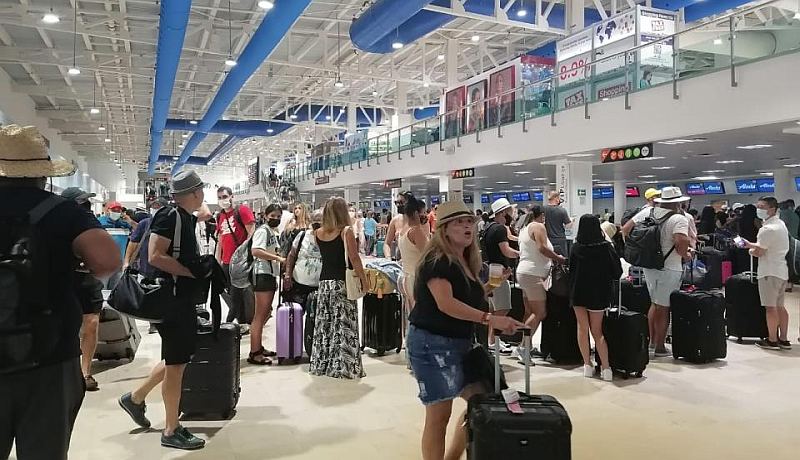 Puerto Vallarta, Mexico – During October, the Puerto Vallarta International Airport came close to reaching 5.5 million passengers year-to-date, marking a significant achievement. According to Grupo Aeroportuario del Pacífico (GAP), the PVR airport and its 11 Mexican counterparts collectively reported a 4.7% increase in passenger traffic during October 2023, compared to the same month in 2022.
The Vallarta airport played a significant role in these figures, attracting 437,400 passengers during the month, a mere 1% increase from the 437,100 passengers in October 2022. This positive difference signals a halt to a brief decline and brings the year-to-date total to 5,498,300 passengers after ten months – an impressive 10.7% more than the previous year. This remarkable growth trajectory suggests the possibility of setting a new annual record.
The breakdown of passenger numbers reveals some interesting trends. In October, 212,300 passengers arrived on domestic flights to Puerto Vallarta, representing an 8.2% decline compared to October 2022. However, over the course of ten months, the airport witnessed 2,409,400 domestic passengers, marking a 10.8% increase from the previous year.
On the international front, 225,100 passengers were welcomed in October, showcasing a substantial 9.3% growth compared to the same month in 2022 when 205,800 passengers arrived. The ten-month total reached 3,088,800 international passengers, a 10.6% increase from the previous year.
The growth in passenger numbers is also attributed to an increase in the volume of seats offered in October 2023, up by 4.0% compared to October 2022. Furthermore, the load factor, indicating the percentage of filled seats, improved from 81.4% in October 2022 to 82.0% in October 2023.
Additionally, new flight routes were introduced during the past month, including Aguascalientes – Felipe Ángeles (Aeroméxico), Guanajuato – Felipe Ángeles (Aeroméxico), Los Cabos – Kansas City (Southwest), Tijuana – Puebla (VivaAerobus), and Puerto Vallarta – Toronto (Flair), expanding the airport's connectivity and contributing to its recent success.
The Puerto Vallarta International Airport's impressive growth in passenger numbers is indeed a positive sign for the Banderas Bay region's tourism industry, promising a potentially record-breaking year.