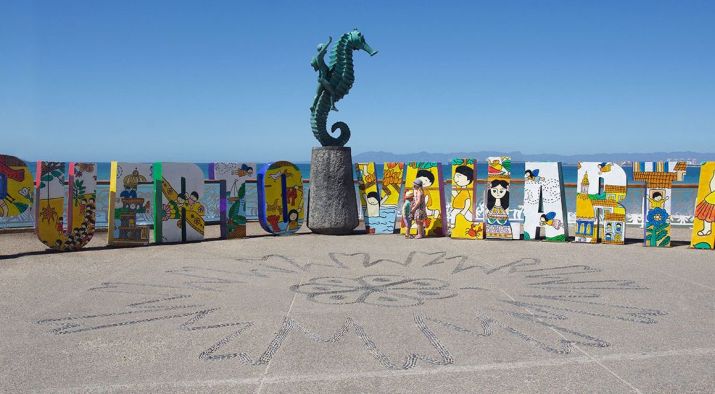 Puerto Vallarta, Mexico – Over the years, Puerto Vallarta has become a very important art center, with more galleries than any other Mexican coastal destination. An important contribution to the city's art scene is the Centro Historico ArtWalk which, this season, is celebrating its 27th year of spotlighting the downtown area's many fine galleries.
The 2022-2023 Vallarta ArtWalk season kicks off on October 26, 2022 and will be held every Wednesday from 6:00 to 10:00 pm through June 28, 2023 at the sixteen participating art galleries in the city's historic center that will be exhibiting works by important national and international artists.
Featuring art in all mediums – paintings, sculptures, fine ceramics and jewelry – the purpose of the art walk is to provide a pleasant atmosphere for art collectors, art patrons, local residents and interested visitors to discover the great variety and exceptional quality of art available here.
For the 2022-2023 Centro Historico ArtWalk season, participating galleries will include: Galería Colectika • Only One • Galería Córsica I & II • Emotions by Córsica • Galería Pajaro Rojo • Galería Browne • Jovian • MannMade Mexico • Galería Pacifico • Galería UNO • LOD • The Loft Galería • Galería de Ollas • Zeus Dominico Art Gallery • Galería Robles
Since all the galleries on the Puerto Vallarta ArtWalk are located in the city's historic downtown area, walking from one gallery to another is an easy, enjoyable experience.
The Centro Historico ArtWalk is not a guided tour and there is no admission fee. You are free to start at any gallery on the list and spend as much time as you wish at each one. This is also an excellent way to meet new people, visit with old friends, and get to know the wide variety of artists who present their creations in the different galleries.
A free brochure with information about the Centro Historico ArtWalk and a map to the participating galleries is available at most all of the major hotels, businesses and galleries in Puerto Vallarta, or online at VallartaArtWalk.com.