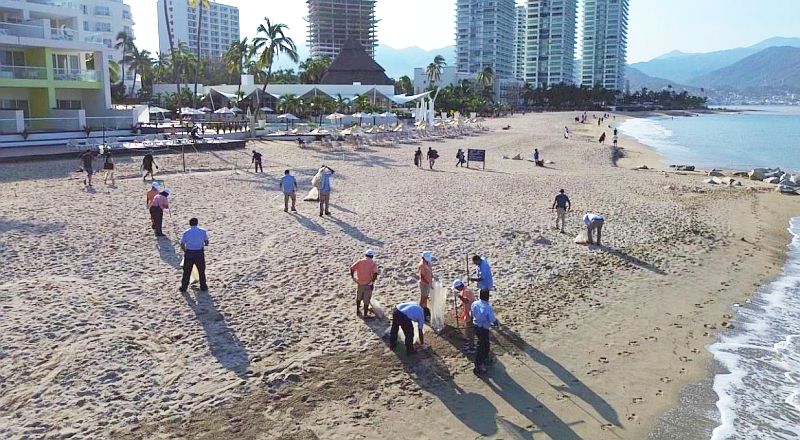 Puerto Vallarta, Mexico – Dozens of volunteers from various municipal departments, businesses, hotels, condominiums, educational institutions, civic organizations, beach vendors, residents, and tourists came together at different beaches in Puerto Vallarta on Monday to mark International Coastal Cleanup Day.
The event was organized by the city's Mayor, Professor Luis Alberto Michel Rodríguez, who called on people from all walks of life to join forces. Together, they worked to remove plastic bags, bottle caps, and cigarette butts, among other pollutants that can harm the coastal ecosystem.
One of the event's highlights was a gathering at Playa de Oro, where Councilwoman Sara Mosqueda Torres spoke on behalf of Profe Michel. She emphasized that this cleanup effort was not just about tidying up the beaches but also sending a powerful message. Puerto Vallarta, she said, cares deeply about its natural surroundings and is dedicated to taking action to protect them.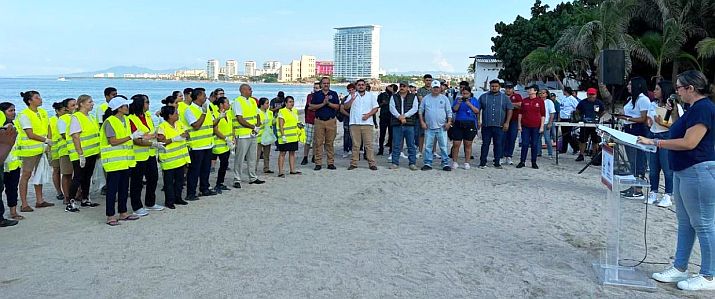 She noted that International Coastal Cleanup Day serves as a reminder that we are all responsible for our planet's health, urging the community to work together to preserve and restore our coastal ecosystem. "We are here as an example of what is possible when government, citizens, and the private sector unite for a common purpose. Every piece of trash we collect today is a step toward a cleaner and more sustainable future. Let us not forget the 3 Rs: Reduce, Reuse, and Recycle, as these are practices we can all adopt to help our planet and, most importantly, educate our children about the importance of caring for our environment."
Maritza Arely Flores Sevilla, Deputy Director of the Environment, emphasized that maintaining clean beaches is crucial for Puerto Vallarta's role as a popular tourist destination. She urged people not to litter or release harmful substances into the sea. Instead, she encouraged the use of proper trash containers, responsible disposal of waste, and reporting any environmental harm to the authorities.
Adriana Guzmán Jiménez, Director of Urban Development and Environment, emphasized that as a coastal municipality, keeping the beaches clean should be an everyday commitment. She stressed the importance of recognizing that any waste we dispose of in streets, streams, or channels can ultimately end up in the sea, thereby harming nature. "We hope these activities become routine, resulting in less trash to collect year after year."
She also highlighted that beach cleanups like this take place in approximately 120 countries. In Puerto Vallarta, the cleanup efforts extended to Holi Beach, Los Tules Beach, Flamingos Beach, Camarones Beach, and Los Muertos Beach.
Overall, the International Coastal Cleanup Day event in Puerto Vallarta showcased the power of community, demonstrating that when people come together with a shared purpose, they can make a significant difference in preserving their environment for future generations.