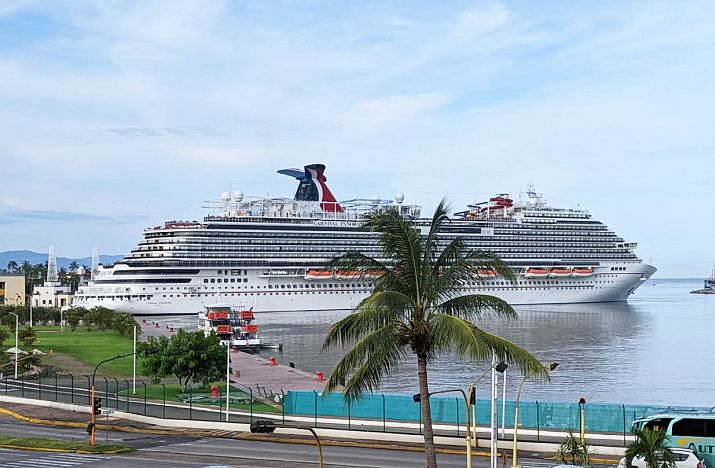 Puerto Vallarta, Mexico – The general director of the Administration of the National Port System of Puerto Vallarta (ASIPONA), Víctor Francisco Uribe Arévalo, reported that the necessary steps are being taken so that the expansion of the Puerto Vallarta maritime terminal docks to berth cruise ships of more than 360 meters in length can begin next year.
He explained that ASIPONA has to meet many requirements before making improvements or beginning new projects. In this case, in addition to the Navy and Hacienda, the Unidad de Inversiones (Investment Unit) has to approve the project for increasing the length of the docks for larger ships. "Currently we receive ships from 320 to 330 meters in length but we have to prepare for those of 360," he said.
He indicated that, for this year, there are other projects slated to improve other areas that are neglected; maintenance will be given to the stone jetty and the Los Peines docks so that next year could start with the extension of the quays.
He pointed out that the Carnival Panorama is scheduled to arrive four times a month in both July and August, and it is estimated that the large number of passengers it brings will leave a very good economic impact on the port.
"For the rest of the year we have to wait for more cruise lines to return. Apart from Carnival, Princess and Holland America are the main ones that send us cruises. We are projecting to exceed 100 cruises this year, which is an incredible recovery given the circumstances that we all know too well," said Uribe Arévalo.
Finally, he highlighted that each tourist who arrives in Puerto Vallarta on a cruise ship spends around $120 USD while ashore, whereas in other ports, such as Ensenada, they only expend around $40 dollars.
Source: Tribuna de la Bahía