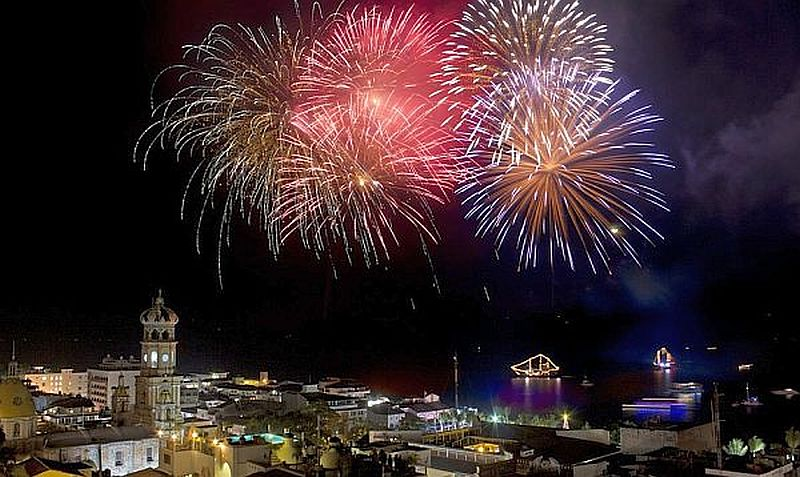 Puerto Vallarta, Jalisco, Mexico – Puerto Vallarta is an awesome place to party anytime of the year, but on New Year's Eve it literally detonates! Fireworks exploding all over Banderas Bay provide an excellent backdrop for the festivities, and wherever you turn the city is one huge party, with something fun for every taste and budget.
Some people choose to "take it to the streets," bar crawling; hangin' on the Malecón, where there will be a huge celebration that includes free entertainment and an awesome fireworks display at midnight; or dropping in on the Olas Altas street party before heading to the beach or Los Muertos Pier to watch the fireworks over Banderas Bay.
Others book an "all-inclusive" evening of food, drinks and dancing 'til dawn, while still others choose to reserve a table at one of the city's fine dining restaurants for an intimate evening of wining, dining and romancing.
Whatever your preference, there's no better place to celebrate the end of one year and the beginning of another than in Puerto Vallarta, Mexico.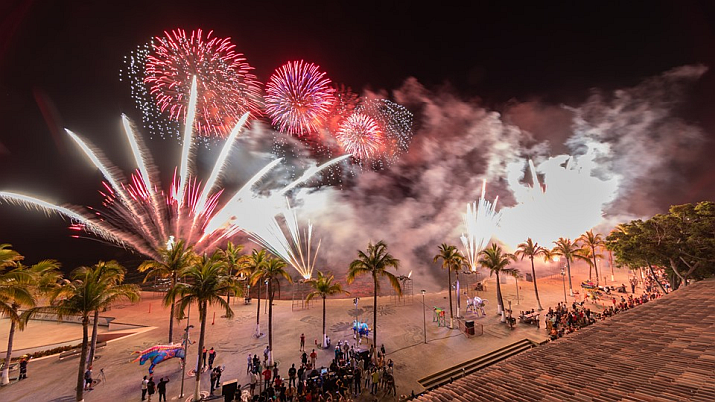 Free Entertainment on the Malecón
Downtown Puerto Vallarta
Every year, thousands of tourists from Mexico and around the world meet in Puerto Vallarta to ring in the New Year in this beautiful city. As the sun starts to set on December 31st, thousands of people head downtown to enjoy the free live entertainment on the Malecón.
According to the municipal government's program of activities, the celebration to say goodbye to 2022 and welcome 2023 will begin at 7:00 pm with a performance by the singer, 'Samaniega'. At 7:30 pm, Martin "El Auténtico de Nayarit" will take the stage, and at 8:00 pm the Sierra rhythm of Los Tres del Ranchito will be presented.
At 10:00 pm Griz MX will make its appearance and, at 11:00 pm, happy rhythms and privileged voices of Grupo Zafiro will make you want to dance in the streets.
As midnight approaches and the countdown begins, everyone starts looking for the best place to enjoy the Espectacular Piromusical, a spectacular fireworks and musical presentation that welcomes the New Year – Vallarta Style!
A surprise group will close the city's celebration, which is expected to be attended by a significant number of Vallarta residents and tourists, who, under the implementation of a special operation by the municipal authorities and other government entities, will be able to enjoy this fantastic party safely.
Whether you choose to hit the streets, enjoy fine food, drink some champagne, listen to live music, or dance the night away, Puerto Vallarta is the ideal place for those in search of the perfect New Year's Eve celebration. We hope you have an unforgettable night, and we wish you all the very best in 2023!