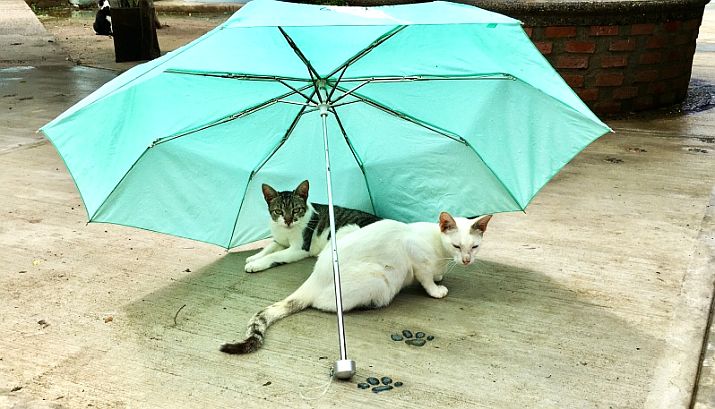 Puerto Vallarta, Mexico – The latest news from PuRR Project, a non-profit, no-kill feline shelter located just north of Puerto Vallarta, Mexico, that provides homeless cats and kittens a recuperative stay with the ultimate goal of adopting them out to loving homes sterilized, vaccinated and disease free.
THE PURR NURSERY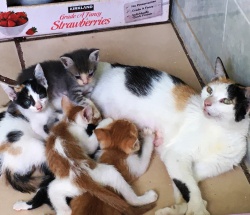 The numbers change so fast it's hard to keep up!! As of this writing there were 30 kittens and two adults dumped at the shelter in July. We were grateful to have 10 adoptions at Petco, though only two on the weekend of the Adopt-A-Thon.
The count at the shelter is up to around 300 counting all the adults. Many of the older kittens will soon be released to live in the yard as they get passed over for adoption and we run out of casita space… always a sad day for us.
If you are thinking of a new feline companion, now is the time! We are at PetCo every Saturday and Sunday. If not, perhaps you can find it in your heart to make a donation to help the shelter buy food and medicine during this difficult time. Just click on THIS LINK for more information and a convenient PAYPAL button.
2022 PURR PROJECT CALENDAR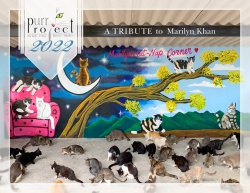 It's hot off the press and ready to order… the 2022 calendar is one of our best yet! The cover features "Marilyn's Cat-Nap Corner" and each month gives us a closer look at life in the PuRR shelter and features many of our cats and kittens. If you are currently in the USA or Canada and would like to place an order, please contact Bama at info(at)purrproject.com.by August 11. She will be mailing calendars from California at that time. The donation this year is $25 USD each and will cover postage. You can pay by check to DE or by PayPal. Click HERE for more information on both payment options.
We are not sure where we will be selling them from here in Puerto Vallarta, but will announce that next month. Hopefully we will be able to resume our Saturday morning adoption post in Old Town in November and will have logo T-shirts and caps to sell as well as the 2022 calendar!
ADOPTION UPDATE: BLUE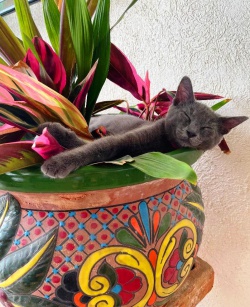 Vivian Moos and her husband Lee met this little Russian Blue kitten at Petco in May and couldn't resist giving him a furr-ever home here in Puerto Vallarta. Vivian recently sent us this message from him:
"My name is Blue. I'm five months old and I'm the naughtiest – but most lovable – kitten my new mom & dad say they have ever met! I was left at the PuRR Project with my five siblings when we were just 3 weeks old. I have a perfect childhood now except I'm not able to jump very high. Instead, I've learned to climb (sigh) much to my parents dismay! And I find great places to take my nap… like the flowerpot!"
GRACIAS! THANKS! MERCI! DANKE! ARIGATO!
We really appreciated the many donations and messages expressing regrets on the passing of Marilyn Khan. We will continue to honor her by doing our best to keep the PuRR Shelter a place she was so proud to volunteer. Thank you Catherine Goglia & James Shoemaker, Nina & Nosh Vellani, Tim Oleno, Carol & Charlie McCullough, Sharon & Ken Rose, Karen Miller, Michele Kim, Sandy & Pat Glenn, Pam Tanora, Elizabeth Fuerherm, Joanne Bryla, Thomas Bleuer, Brian Weaver, Heidi Benedict, Robert Weed and JaLene Taylor for your generous donations.
For more Kitty News & Photos, please visit PurrProject.com.
---

PuRR Project is a Non-Profit shelter in Puerto Vallarta, Mexico that provides homeless cats and kittens a recuperative stay with the ultimate goal to adopt them out to loving homes. All of our residents have been sterilized, vaccinated and are disease free. We accomplish this through our own efforts as well as collaboratively with other animal welfare organizations. Both monetary donations as well as donations of dry cat food are most welcome – and much appreciated. Donations 501(c)(3) tax-deductible in the U.S. For more information, visit PurrProject.com or send an email to info(at)purrproject.com.