PV Technology Solutions (PVTEC) is a specialized MAC and PC computer repair and accessory shop that opened in 2010 in the heart of the Romantic Zone of Puerto Vallarta. The store is conveniently located on Pulpito Street between La Palapa Restaurant and Pulpito Plaza on Vallarta's south side.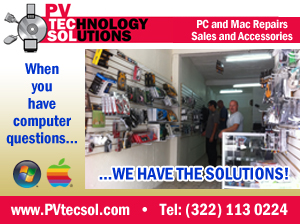 When it comes to troubles with technology PVTEC has your back!
Specializing in computer service, repairs, formatting and system installation in both English and Spanish, PV Technology Solutions stocks Mac and PC computers and will get the ideal computer for your needs.
At PV Technology Solutions, you'll find cables, wireless and wired keyboards in English and Spanish, memory sticks, batteries, cases, computer chargers, iPod and iPad accessories, as well as hard drives, mother boards, and memory upgrades for purchase and installation – at great prices.
The PV Technology Solutions staff is a friendly, helpful and knowledgeable group of professionals who can recommend solutions – from the simplest to the most difficult technology task. They also speak English, so you will feel right at home with all of your computer needs.
PVTEC also has expert network and router troubleshooting technicians to assist you with Internet connectivity or if you need just file backup and music/movie transfers. They even do flat screen video and audio system installations. No job is too small when you need it!
The latest PVTEC service is professional aerial drone footage, they also provide video and audio editing, ideal for real estate purposes or for getting amazing aerial footage of your events. PV Technology Solutions offers the best Tech service on this side of the wall!PV Technology Solutions is located at Pulpito #141-A on the South side of Puerto Vallarta. Master card and Visa credit cards are accepted. For more information, visit pvtecsol.com, or contact Cheyenne Quesenberry at pvtecsol(at)gmail.com, (322) 113-0224 or Cell: 044-322-194-8431.