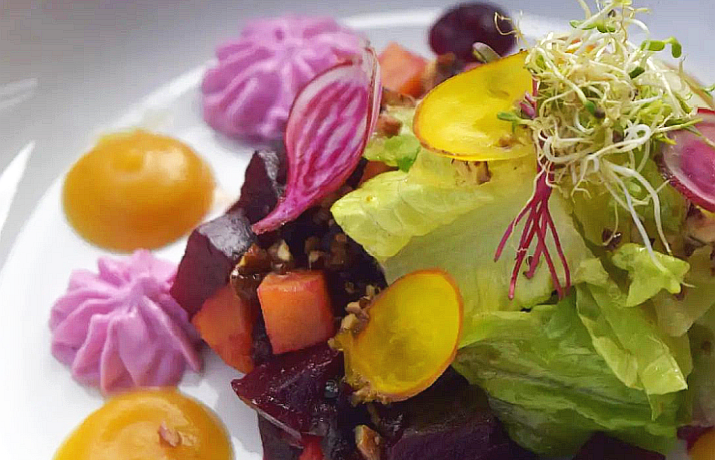 Puerto Vallarta, Mexico – Nestled in the heart of the Romantic Zone, Di Vino Dante originally opened in 2013 as strictly a wine and tapas bar. Today, the menu at this casual-chic restaurant features international cuisine, Mexican wines, signature cocktails and, during Restaurant Week, a delicious three-course menu for just $459 pesos.
Di Vino Dante's 2023 Restaurant Week Menu
Choose one dish per course for $459 pesos
(Price does not include drinks nor tips)
APPETIZERS
Beet Salad, sweet potato purée, mixed greens, nuts and honey-mustard vinaigrette
Carrot Cream Soup with coconut tapioca and croutons
Mahi-Mahi & Papaya Ceviche with bell pepper, corn crunch, coconut water and serrano oil
MAIN COURSES
Catch of the Day al Pastor with grilled pineapple, avocado mousse
BBQ Ribs with sweet potato fries, sweet & sour raffish, buttered corn
Skirt Steak with cherry tomatoes, balsamic, mozzarella, sun dried tomatoes, baby arugula
DESSERTS
Honeyed Pumpkin Panna Cotta with tapioca
Chocolate Cake with vanilla ice-cream
Creamy Fig Tart
All of this is complemented by the restaurant's extensive wine list, craft beers, distilled liqueurs, a growing menu of signature cocktails, and an artistic ambiance that is perfect for casual dining.
Open Mon-Sat from 6-10 pm, Di Vino Dante is located at 269 A Basilio Badillo. The restaurant overlooks the sculpture garden at Galleria Dante, the largest and most eclectic art gallery in Puerto Vallarta. Come and enjoy a specially priced, delicious three-course menu with a beautiful gallery view during Restaurant Week, which runs through June 10, 2023.
Di Vino Dante… an Artistic Experience