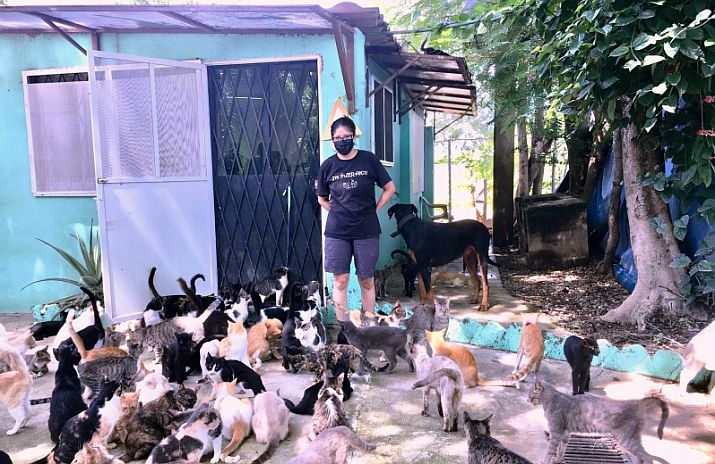 Puerto Vallarta, Mexico – The latest news from PuRR Project, a non-profit, no-kill feline shelter located just north of Puerto Vallarta, Mexico, that provides homeless cats and kittens a recuperative stay with the ultimate goal of adopting them out to loving homes sterilized, vaccinated and disease free.
September is Virtual Adoption Month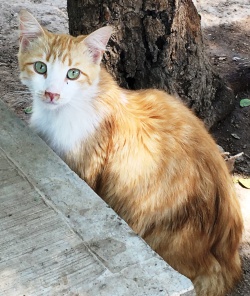 September is the month we celebrate our Virtual Adoption cats! These are usually older cats that have little hope of finding a Forever Home. Many are very people-friendly and would make great companions. Others are feral or have a disability such as one eye or are deaf.
YOU can "Virtually Adopt" one of these felines for yourself or as a gift to a feline-loving friend for $120 USD a year and help us continue to give these adult cats a safe home and medical care for life. You can learn how to virtually adopt and also meet all the candidates by going to our website or writing us at adopt(at)purrproject.com.
Shelter Update
It has been another rough month at the shelter. First there was a flood on August 3rd. Then the remnants of Hurricane Grace crossed over from the Yucatan and brought high winds and a lot of rain. The result was a HUGE tree located just behind the Nursery crashed down! It totally blocked the road behind the shelter and ripped out the fence and the power lines and our transformer along with it.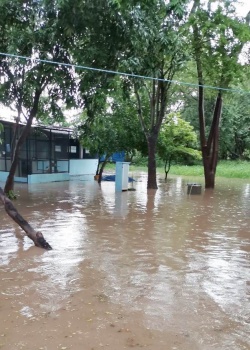 The municipality sent a crew with chain saws and cut away just enough of the tree to clear the road, but the shelter is without power until we can replace the transformer and the power poles. We also have to find a machine to remove the massive root structure before the fence can be replaced. The good news is that no people or animals were harmed and the Nursery suffered only minor damage to the roof. (The tree's roots are higher than the Nursery roof!)
Any donation to help cover this large and unexpected expense will be greatly appreciated! You can go directly to the DONATE page on our website for an each PayPal button or information on where to send a check. https://purrproject.com/donate/
Update: Hurricane Nora passed right over Banderas Bay as a Cat-1 on Saturday evening. The shelter thankfully had only minor damage but the Old Town of Puerto Vallarta suffered some serious destruction with flooding from the Rio Cuale.
The Shelter Dogs
We are a feline shelter but as animal lovers, have rescued quite a few dogs over the years as well! One of the earliest was Miau who lived in the clinic for two weeks before becoming one of the first MexPup rescues sent to Canada!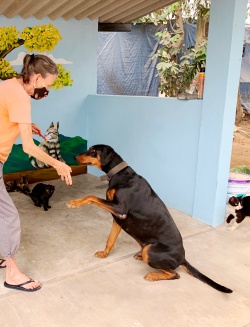 Currently we have two dogs we have "adopted" and who live at the shelter in harmony with their feline companions. Rocky the Rottweiler was in bad shape when he first appeared at the shelter about two years ago and refused to leave. He is now happy and healthy.
Zeus the Doberman has been with us about a year. He is only two years old and loves to "sit" and "shake" for his treats! Our vet has also spayed the four female dogs that live on the adjoining property and we provide monthly food for them.
Gracias! Thanks! Merci! Danke! Arigato!
First we'd like to thank all the people who renewed their Virtual Adoptions in August: Connie Argus & Thomas Barnes, Cherri & Rob Gilmore, Carol & Gordon Whittington, Judy Carlsen, Karen O'Shannacery, Jim Shoemaker, Catherine Goglia, Eve Edwards, Sharon Rose and Shanti & Bob Doelger!
We also received donations from: Vivian Moos, Trisha Aljoe, Pat Brumfield, Gary Phillips, Connie Argus, Richard Robertson, Timothy Oleno, Larry Sherwood, JaLene Taylor, Sandy & Pat Glenn, John Graham, Jerry Petrizzo and Heidi Benedict.
A VERY special THANKS to Judy Covarrubias (part of the mother-daughter duo who translates for us) who asked for donations to PuRR for her birthday and we received a very generous donation from Dr. Jacob L. Wright in her name. Thank you!
For more Kitty News & Photos, please visit PurrProject.com.
---

PuRR Project is a Non-Profit shelter in Puerto Vallarta, Mexico that provides homeless cats and kittens a recuperative stay with the ultimate goal to adopt them out to loving homes. All of our residents have been sterilized, vaccinated and are disease free. We accomplish this through our own efforts as well as collaboratively with other animal welfare organizations. Both monetary donations as well as donations of dry cat food are most welcome – and much appreciated. Donations 501(c)(3) tax-deductible in the U.S. For more information, visit PurrProject.com or send an email to info(at)purrproject.com.