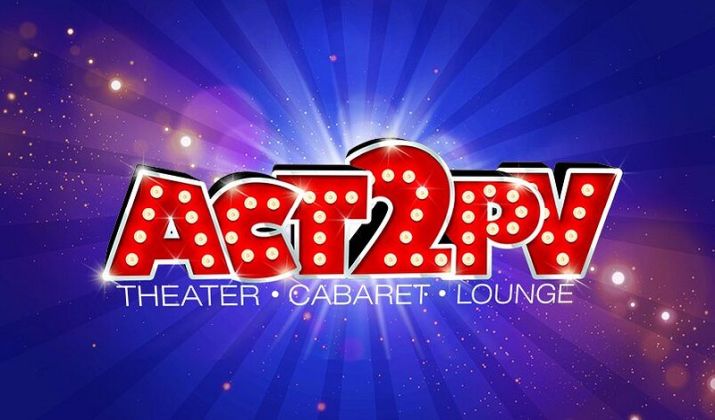 Puerto Vallarta has been experiencing an unprecedented summer season as a result of the surge in summer tourism this year. As a result, Act2PV continues its entertainment season with shows four nights a week!
Act2PV is the #1 PERFORMING ARTS VENUE IN BANDERAS BAY on TripAdvisor and #4 on Trip Advisor's "Things to Do in Puerto Vallarta!" This 5-star entertainment venue truly brings you THE BEST OF THE BEST!
Act2PV is also very dedicated to protecting the health of its performers, staff and customers by continuing to implement all Covid protocols, including seating at a reduced capacity, and required masks. Act2PV has proven that LIVE ENTERTAINMENT CAN BE ENJOYED SAFELY!
Update on Hurricane Nora Relief Concert Donations
Act2PV has already started dispersing the many household items, as well as the funds that were donated for the families that lost everything in the flooding that occurred after Hurricane Nora. Our capable team of volunteers has been hard at work this week, and there are a definitely a lot of grateful people. Act2PV is also very grateful to all of you who contributed to this worthy cause.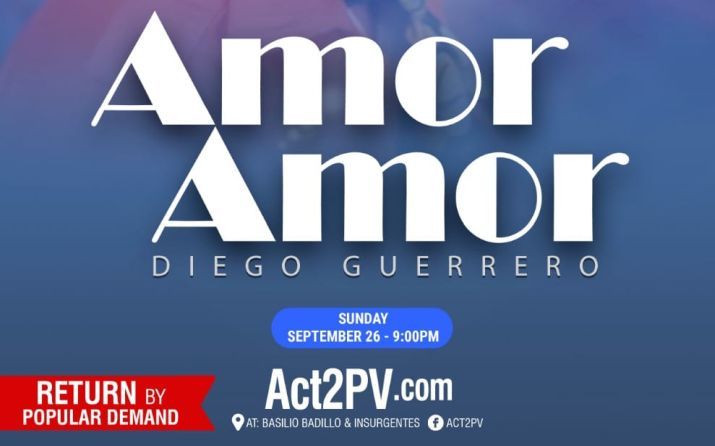 "AMOR, AMOR" starring Diego Guerrero
Sunday, September 26 at 8:00 pm (ONE NIGHT ONLY!)
You've seen him on the Act2PV stage starring as "Nicky" in Avenue Q; you've seen him singing harmonies alongside Act2PV's beloved Mama Tits for the past two years; and you've seen him performing in various venues all over town! NOW, you can come and see the romantic, smooth-voiced and very handsome Diego Guerrero in his own cabaret show, "Amor, Amor," on the Act2PV stage FOR ONE NIGHT ONLY on Sunday, Sept 26 at 9:00 pm.
This musical tribute to the music of Grammy Winner, José José, features some of the greatest songs of all time, including La Nave del Olvido, Almohada, Gavilán o Paloma and El Triste. Diego's show in May was presented to a sold-out audience, so Act2 is very excited to welcome Diego to its stage once again! Tickets are available now at act2pv.com.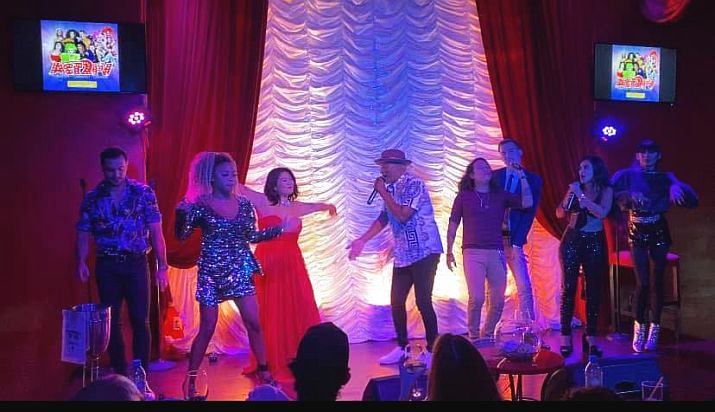 Act2PV Showguide (September 24-October 1)
Always check the website at act2pv.com for any last-minute changes to the show schedule.
Super Saturday, September 25
7:30 pm – The Best of Diana Villamonte, featuring the "Queen of Vallarta" singing songs from all of her sold-out shows, including Whitney, Tina Turner, Diana Ross, Aretha, Motown and more. (PAY WHAT YOU WANT!)
8:00 pm – Amigas Desgraciadas – Five friends get together to vent their adventures and misadventures, resulting in humor and drama. FINAL SHOW! (Spanish language)
Sassy Sunday, September 26
8:00 pm – Amor, Amor featuring Diego Guerrero – A Celebration of musical legend, José José! (ONE NIGHT ONLY!)
Wonderful Wednesday, September 29
8:00 pm – The Greatest Show on Earth, a FREE SHOW featuring host Marc Lopez and all of Act2PV's amazing entertainers
Terrific Thursday, September 30
9:30 pm – Keeping Up With Karma – An evening with "Karma, The Chamaeleon," Actor / Singer / Dancer & International Performer, delights audiences with her Broadway voice!
Be sure to check out the many reviews for Act2PV shows on TripAdvisor, Google and Facebook, then go to act2pv.com for more show information, additional performance dates, and to purchase your tickets. You can also get tickets at the Act2PV Box Office, which is open on show days from 4:00 to 10:00 pm.

The Act2PV Entertainment complex is located on the corner of Insurgentes and Basilio Badillo on the South side of Puerto Vallarta. For more information, call (322) 222-1512, or follow Act II on Facebook. Click HERE to learn more about Act2PV.