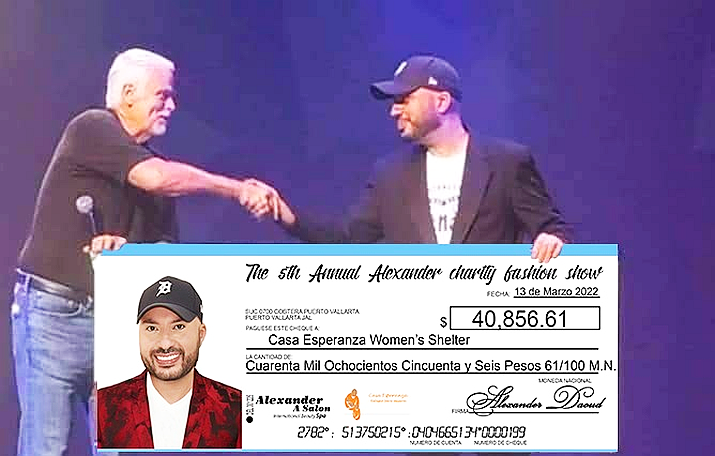 Puerto Vallarta, Jalisco, Mexico – We are thrilled to announce that the live Alexander A Salon Charity Fashion Show is back! So please save the date, Sunday, February 12th, 2023 at 1:00 pm to join us!
As you know, Alex Daoud has long been committed to fund raising for many organizations in his 12 years in Vallarta. In this time, he has raised a total of $1,076,356 pesos for various charities.
For the last two years, because of COVID, and in an effort to keep our clients and friends safe, our fundraising efforts were limited to pledge drives. But now, in 2023, we are beyond excited to present our fashion show once again, and Alex's continued desire to be of service to our community is stronger than ever.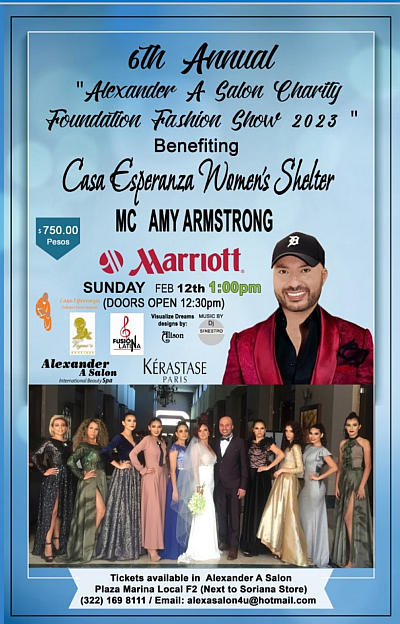 We are SO pleased to announce our 6th Annual Charity Fashion Show, again taking place at the beautiful Marriott Hotel. Our MC will be the amazing Amy Armstrong! We will enjoy a fabulous show produced by Luis Sanchez. We will have a delicious lunch, a special runway event, silent auction and raffles, and more surprises!
In a continuation of our efforts last year – we are again raising money for Casa Esperanza, our local shelter for at-risk women and their children. This deserving organization is critical to the safety and well being of women and children in and around Puerto Vallarta.
We are very proud to partner with Casa Esperanza's founder, Mr. David Zude and with Ms. Freda Thompson, to help raise money for this worthwhile cause. Last year, we raised $40,856 pesos. This year, our goal is to raise $250,000 pesos with our all-volunteer fashion show event, and with your support.
The words "Casa Esperanza" translate to "house of hope". And that is literally what this organization provides to women and children in desperate need. Hope – in the form of resources, services and kindness.
The families sheltered there are survivors of extreme violence, experiencing the most difficult of circumstances. Casa Esperanza provides housing, food, clothing, medical and dental services, psychological services, legal services, social work and teaching interventions to the clients they serve. And most importantly, in addition to the services listed above, Casa Esperanza provides a sense of safety and support while the women and children sheltered there rebuild their lives.
Casa Esperanza currently operates at a cost of $300,000 US per year to maintain operations. It is the sincere hope of the Alexander A. Salon Charity Foundation to continue our partnership with Casa Esperanza in future years, and it is our commitment to be one of Casa Esperanza's strongest financial supporters.
One of the reasons that Casa Esperanza holds such a place in Alex's heart is that, like him and his work, Casa Esperanza is also all about empowering women. Alex's entire career has been devoted to helping women feel confident, strong, and in possession of a positive self-image. Casa Esperanza helps women achieve these qualities as well, providing a life-line for women and children to live freely, independently and peacefully.
So, of course, the pairing of Alex's charity foundation with Casa Esperanza has been a natural and fitting combination. This year, Alexander A Salon and Kerastase will each donate 10% of all product sales at the show to the charity.
This year's fashion show is devoted to reflecting and honoring women – from all walks of life, in all circumstances, and in all their unique beauty and strength! We hope you will support Casa Esperanza by joining us for our 6th Annual Alexander A Salon Charity Fashion Show. We so look forward to seeing you there!
Tickets are $750 pesos and groups of 10 are welcome to reserve a table. They can be purchased at Alexander A. Salon, located at Plaza Marina Local F2 (next to the entrance to the Soriana Supermarket). Open Monday-Saturday, 10 am to 7 pm.
To pick up tickets in Old Town/Centro area, contact Andrea Nero-Jones via Facebook Messenger or via phone at US 971-340-3800.
To learn more about the Alexander A. Salon, or to make an appointment, please visit the website, call the salon at 322-221-1856 or (cell) 322-169-8111, contact Alex Daoud via Facebook, or email alexasalon4u(at)hotmail.com.
Written by Andrea Nero-Jones for BanderasNews.com.