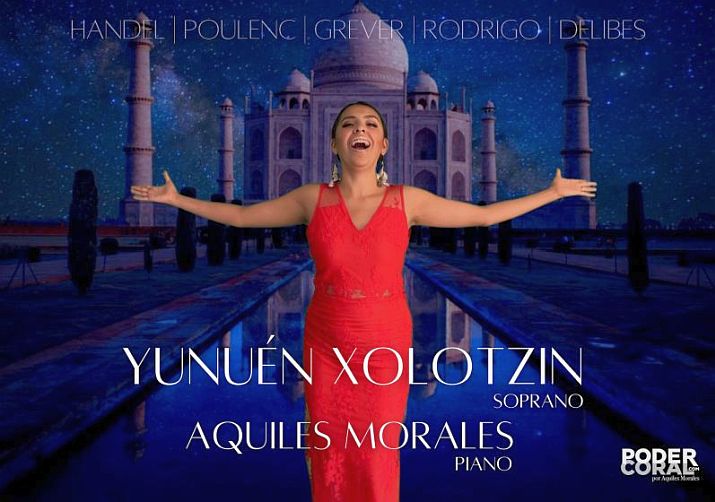 Puerto Vallarta, Mexico – On Thursday, June 30, at the Cuale Cultural Center in Puerto Vallarta, soprano Yunuén Xolotzin will perform for the first time in Puerto Vallarta, accompanied on piano by Aquiles Morales.
The impressive soprano has sung in the best venues in the country and is known for her performances where the power of words, acting and virtuosity are masterfully combined. Her specialties are early music and bravura arias.
Aquiles Morales is a pianist and choral director, founder of the organization Poder Coral with piano studies at the École Normale de Musique de Paris. Music has led him to perform concerts in the United States, Italy, France, Spain and Mexico. He was the director of the Mexico City Choir and currently seeks to bring choral music to the entire country by expanding his organization from Mexico City to Jalisco and Nayarit.
Works by Delibes, Handel, Grever, Rodrigo and Poulenc will take us on a journey from India to Mexico and tell us stories from every corner of the world. The musical program will take you to India with the famous aria of the bells of Lakmé; later, in Egypt, Cleopatra will lament the fate of her beloved Julius Caesar, part of Handel's opera; a beautiful cycle by Joaquín Rodrigo will take you to Spain, and the French delicacy of Francis Poulenc's Banalités cycle will take you to Eiffel Tower. The program will close with a flourish with the most beautiful Mexican songs.
The concert is on Thursday, June 30 at 7 pm at the Cuale Cultural Center.
Achilles Serdán 437 int. 38
Col. Emiliano Zapata, Cuale River Island
Puerto Vallarta, Jalisco
Donation: $250
Tickets and more information visit podercoral.com.