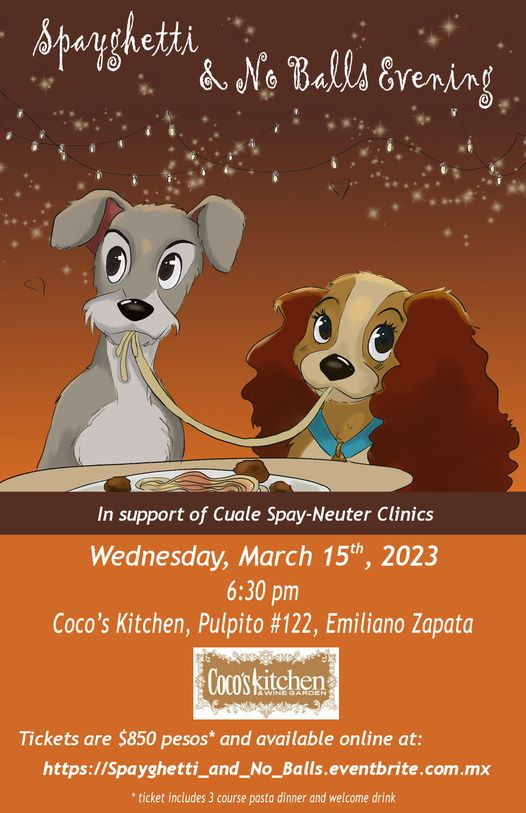 Puerto Vallarta, Mexico – Coco's Kitchen will host a "Spay-ghetti and No Balls" (that's spaghetti to you and me) dinner on March 15th at 6:30 pm to benefit the Cuale Spay Neuter Clinic, a long-term, non-profit project that aims to reduce the number of unwanted animals in Puerto Vallarta.
After a two-year absence, this fun-filled event with a cause is back! Thank you to Coco at Coco's Kitchen for hosting another epic night of fabulous spaghetti, fun, silent auction items, raffle prizes, and more to raise funds for the Cuale Spay and Neuter Clinics.
Tickets are $850 pesos and available online at eventbrite.com.mx.
Cuale Clinic has an interesting set of numbers right now, and it all seems to be sevens. We completed 7 years and are now in our 8th year. As of our last clinic, where we sterilized 128 animals, we have done 7,770 dogs and cats.
That's a lot of sevens, and we are hoping it's a lucky number. Still, the number of unwanted dogs and cats continues to grow. The average cost of a clinic, if we cap the numbers at 120 or go up to 130, is now approximately $40,000 MXN. Holding one clinic monthly means we need to raise $480,000 MXN for 2023.
You can help us by attending the Spay-ghetti dinner on March 15th and have fun at the same time. Get your tickets TODAY at eventbrite.com.mx.
Monies raised at the "Spay-ghetti and No Balls" dinner will be used exclusively towards the ongoing spaying and neutering of animals in and around Puerto Vallarta. If you are unable to attend, donations can also be made via eventbrite.com.mx.
Can't attend the dinner but still want to help? You can also donate at eventbrite.com.mx.
Coco's Kitchen is located at Pulpito #122, Col. Amapas, on the south side of Puerto Vallarta.